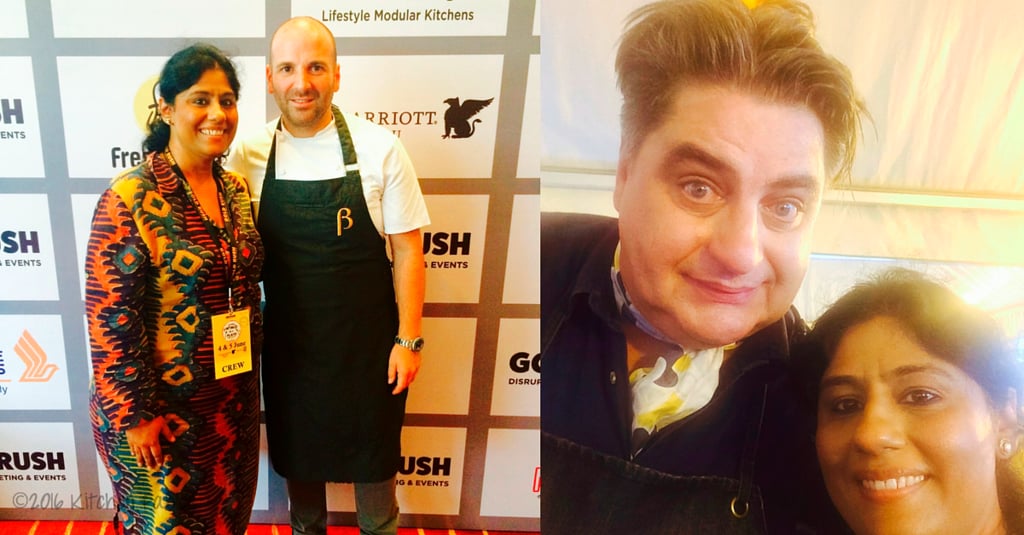 With George Calombaris and Matt Preston
Bangalore has always been a city of opportunities. Last weekend, the city hosted a one of it's kind event called "World on a Plate", wherein the Master Chefs Australia's Matt Preston, Gary Mehigan and George Calombaris shared their kitchen secrets with all of us for two days.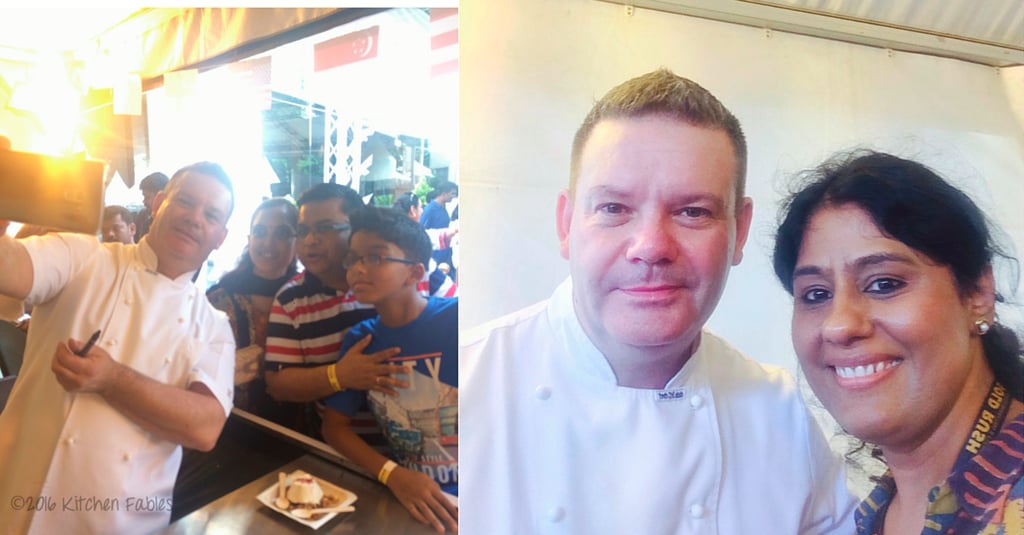 Fan Moments with Gary Mehigan
I am lucky to have spent my entire weekend with them. I spent most of my time at JW Marriott, which had Matt and Gary's food Stalls along with food stalls of many other restaurants like Dum Pukht, Alba, Soda Bottle Openerwala etc. The venue at UB City had George's stall, and many other street food trucks.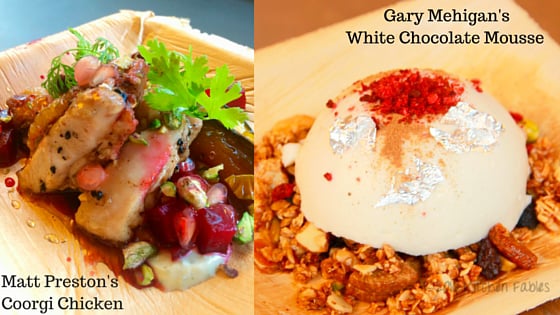 Obviously, as a food lover it was a delight to attend, but the bigger reason I was there was to spread awareness about H.U.G. – Humane Universal Good Deed Network , which is a cause I am passionate about. H.U.G focusses on distributing healthy food to slums, old age homes and under privileged children. The organisers, Master Chefs and participating restaurants supported the cause by pledging meals. We also got an overwhelming response from the guests as well with many coming forward to pledge meals right at the venue.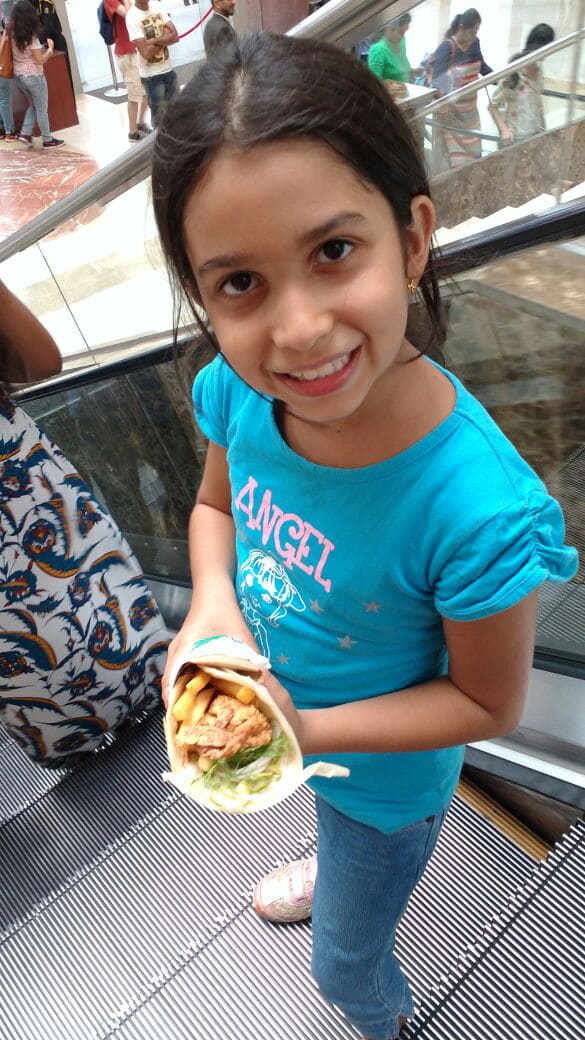 A Very Happy Customer with her Soft Shell Crab Souvlaky
The event was awesome, leaving me with so many lessons for life. Lessons that will help me in being a better cook and a better blogger.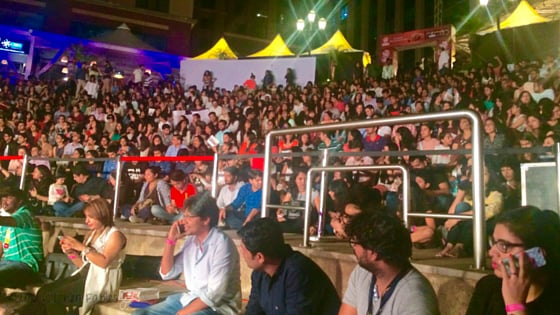 Electric Environment for Tete A Tete
Here are the highlights,
IndIan Food – I was inspired by Matt when he said that Indian food has it all and now it is up to us to take it to the world. A lot has been done but there is so much more that we Indians can bring to the food lovers across the globe.
Health & Nutrition – As a food blogger , a mother , a wife and a host I always strive to balance nutrition and taste in my recipes. I was very happy to hear that the Master Chefs echoed my thoughts. George mentioned how he has been moving away from processed food and Matt mentioned "your daily food should be what your grandmother recognises"
Hard Work – All the three chefs mentioned that there is no substitute for hard work and that includes long hours at work. Although, when you love what you are doing hard work does not seem so hard.
Fear of Failure: In Tete a tete with the Master Chefs, answering a question on what is required to succeed in the Masterchef competition , Chefs said "get over the fear of failure". Only when you give up your fear of failure, will you be able to express your creativity.
Changing Times: One thing which came as a big surprise to me was the fan following Master Chefs enjoyed from both the younger and older generations. I saw a large number of participants from both age groups. I met a father and a daughter who had flown down from Delhi to be part of this event. Another young gentleman who attended the Master classes on both the days had taken a day off from work to do so. I have been questioned by so many on why I cook instead of ordering food for guests and many people still believe that cooking is menial drudgery. I am glad to see that cooking is being given the respect it deserves.
Humility: I think everyone who got a glimpse of the Master Chef's was touched by their humility. I was in Matt's counter on Day 1 and was introduced as a volunteer. As we shook hands he said "Hi , I am Matt Preston." with absolutely no airs about it, as if there was a need to say it. Gary was so patient with the fans and took time to thank the junior chefs and organising team at his counter. George, in his Master class, said one quality which is a must to be a successful chef is to have "No Ego. Respect your customer." I was really touched by the time the Chefs spent with underprivileged kids.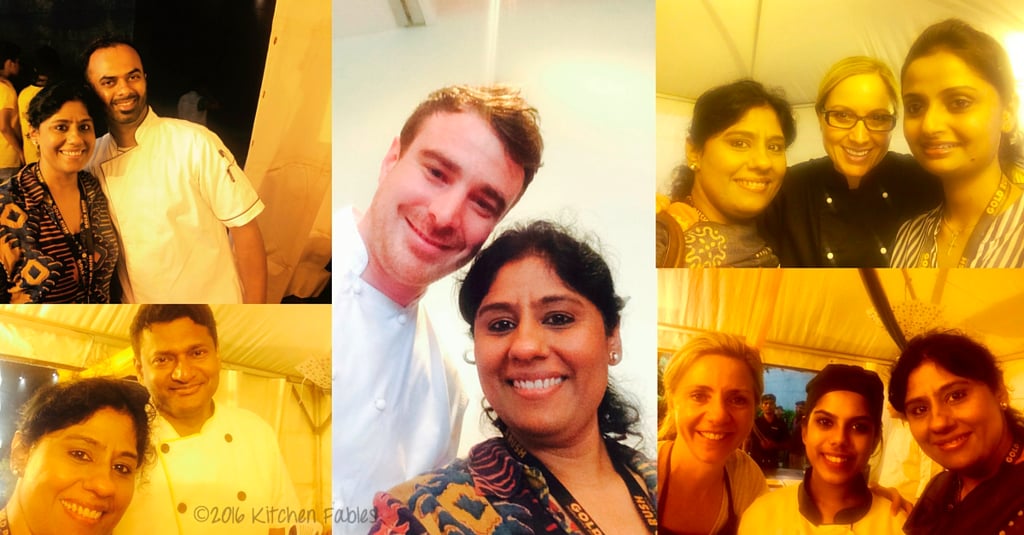 With Wonderful people who worked Backstage
I was also happy to meet volunteers of H.U.G from all age groups and varied backgrounds. While there were only a few of us at the venue, there were many who were managing the logistics at the backend across Bangalore city for distribution. Weeks of planning and excellent execution resulted in thousands of filled stomachs and happy souls. Special thanks to Gold Rush for bringing the Master Chefs to Bangalore.

Autographs by the Master Chefs
1