Over last few months I have become a Big Fan of  Chukku Coffee – a Home made Herbal Tea.  It is a home remedy for Cold and Cough. For minor cold and cough I prefer to rely on home remedies rather than taking pills. Instead of tea or coffee have this light drink. It helps soothe the throat and keeps one warm. All the ingredients like Ginger , Pepper , Coriander , Holy Basil have healing properties. Chukku coffee also aids in digestion.
I first had chukku coffee at my friend Lakshmi's place. Chukku is a Malayalam word for Dry Ginger.  I prefer to serve Chukku coffee along with heavy snacks or have it in the night in winters before going to bed. This Home made Herbal Tea can be easily made  with the spices found in every kitchen. Next time you have cold or cough  do not rush to a chemist, try this herbal drink . Other Home remedies for cold and cough are Besan Ka Sheera or Brown Chicpeas Soup
 Chukku coffee is also great for reducing your tea coffee intake.  Though the name has Coffee in it, Chukku coffee does not contain any real coffee. The mix of herbs gives a very similar effect to coffee and you can easily replace your normal coffee. Thus you avoid the caffeine without losing the taste.
I prefer to use palm jaggery as it also has a high iron content. However, if you do not have palm jaggery  you can also use regular jaggery or honey. The Sweetness of Jaggery balances the sharp flavors of black pepper and ginger, making it really refreshing.
I normally keep crushed ginger , pepper & coriander seeds. At the time of boiling, add Tulasi ( Holy Basil) and Jaggery. When my daughter she has a cold,  I make the Chukku coffee with a little more Jaggery, and give her two tablespoons 3-4 times a day.
If you like the recipe please show your support by clicking on the little heart on the top.  If you would like to get notified whenever I post something new, please follow the blog. You will also find us on Facebook, Pinterest & Twitter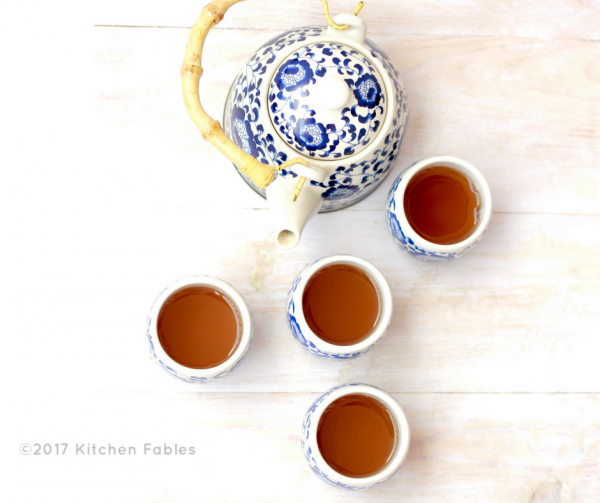 | | |
| --- | --- |
| | |
Crush Coriander seeds, dry ginger and pepper . You can make the powder and store it in an air tight container
Chukku Coffee or Herbal Tea
Boil water and add Crushed spices along with Holy Basil and Jaggery. Serve Hot.