Another childhood memory. I have lived most part of my life in North India especially UP . Summers in UP get really hot and mercury hits 50 degrees Celsius. Food during summers had to be such that the body cools down is able to survive the heat. My mother used to prepare Badaam ka Sharbat at home, as the summer started in the month of April and till about August, we always had it with milk. It is very nutritious , is considered good for eye sight and also a home remedy for nose bleeding due to heat.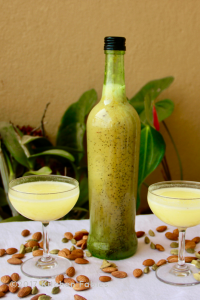 Not just with milk, Badam Ka Sharbat can also be made with water and served in place of packaged drinks. The flavours are very soothing and calming. Serve it as a welcome drink to your guests or give it to the kids after they sweat it out playing.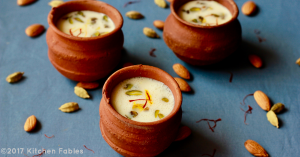 Apart from Almonds, another key ingredient in the Badaam ka sharbat is musk melon seeds. Musk melon seeds are a great source of protein, Vitamin A, C & E , antioxidants and Omega-3 fatty Acids. Most of us now a days eat the musk melon and throw the inner lining with the seeds. My mother used to soak the inner lining of melons in water overnight and next days clean it and get the seeds. Dry the seeds during the day. During our summer vacations all of us used to remove the outer skin of the seeds. A little effort but it was just one of the things that as a family we did together.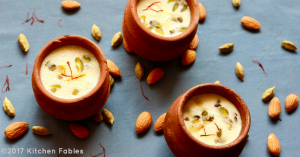 If you like the recipe please show your support by clicking on the little heart on the top.  If you would like to get notified whenever I post something new, please follow the blog. You will also find us on Facebook, Pinterest & Twitter
Measure all the ingredients

Soak the almonds for 2 hours at room temperature. If you soak the almonds in hot water, the skin of almond may leave its colour on the almond. We want white almonds therefore I soak it in water at room temperature. It takes longer but gives better colour to the syrup

Wash and Soak the musk melon seeds, too

Put Sugar and Water in a vessel and Boil.

Once the syrup starts boiling add lemon. Make syrup of single thread consistency. That means when you press syrup between two fingers a single thread is formed. Adding lemon will help help collect all the froth on the syrup. Remove the froth and add Saffron. Let teh syrup cool down

Peal the Green Cardamoma and powder it in Mortar & Pestel

After 2 hours, Drain the water of Almonds & Musk melon Seeds

Remove the skin of almonds

Put almonds and Musk melon seeds in fridge for Half an Hour

After half an hour grind the almonds and musk melon seeds ( Preferably without water )

Mix the above in Syrup along with powdered Green Cardamom

Store in an airtight bottle in Fridge upto a month.

Shake the bottle well before use as the Almonds and Musk melon paste will tend to settle on top of the bottle

For serving Take 4 parts ( water or Milk) and one part syrup and mix it well