Never work before breakfast. If you have to work before breakfast, get your breakfast first. – Josh Billings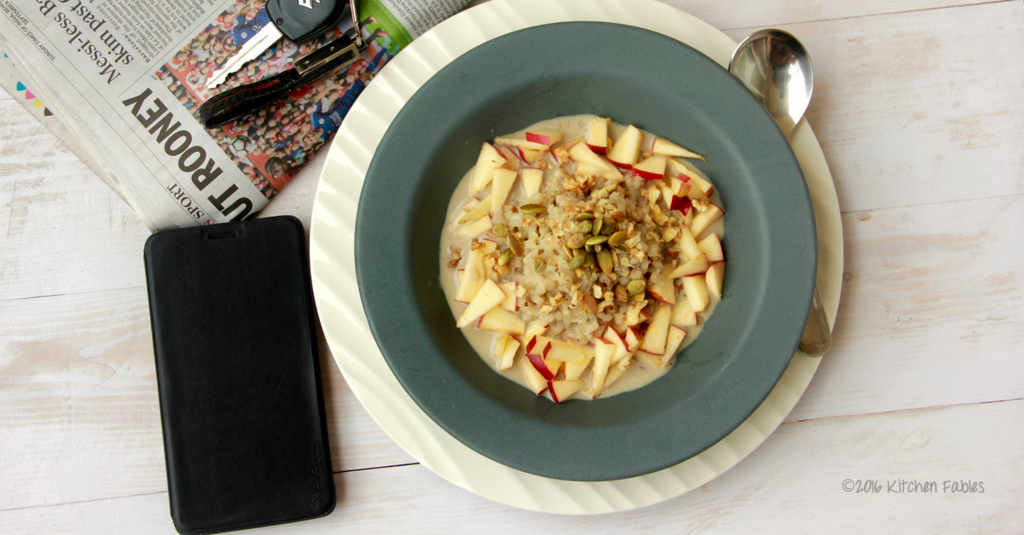 Most of us in today's world are managing hectic schedules. While we juggle between our various responsibilities one important activity that we must "Invest" our time in should be Breakfast. The time that we spend in making and eating a healthy breakfast to a great extent shapes up the rest of our day. Eating a healthy protein rich breakfast is important as it boosts Metabolism, Energises you for the rest of the day, Improves focus and concentration and helps in maintaining or losing weight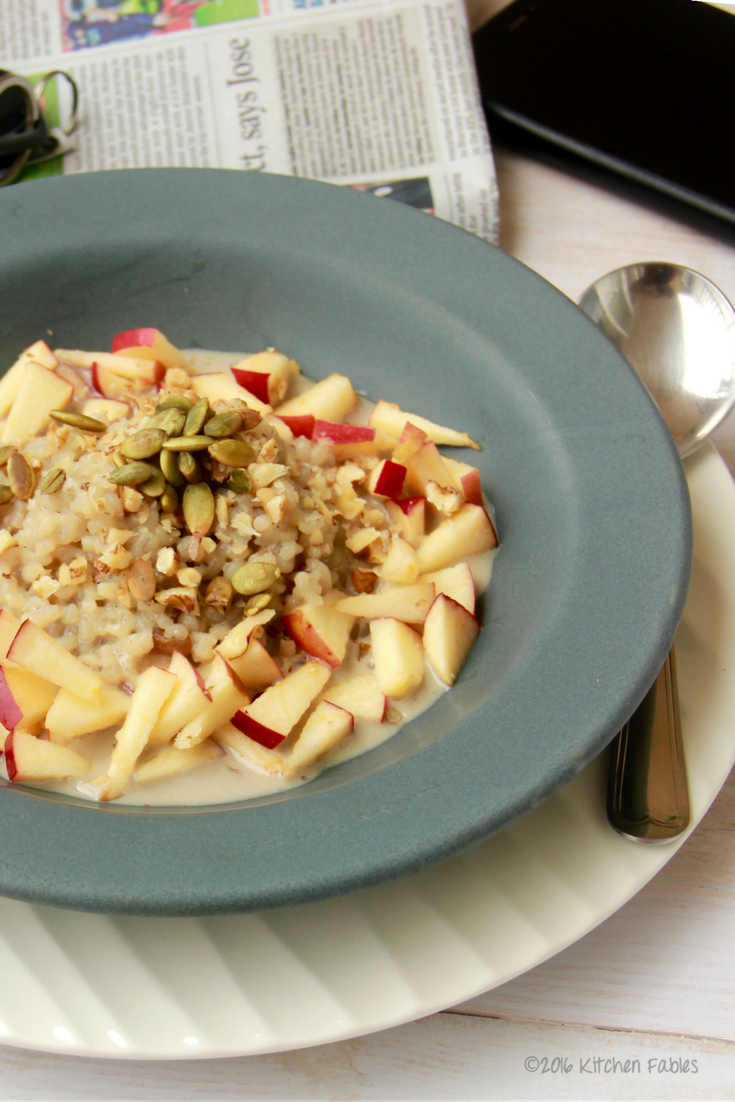 Like all of you my mornings are also rushed – daughter has to be sent to school, I have to go to work , Morning meetings to attend etc. In such a hectic schedule a ready to eat breakfast is a most convenient option, however, most of these breakfast options are high in sugar and provide very less nutrition. Over the years I have learnt an important lesson – Plan , Plan & Plan. I plan my breakfast and meals for the week. This helps me making right choices and also prepare well in advance. Due to the early morning rush I keep breakfasts simple & quick to make , without compromising on health and taste.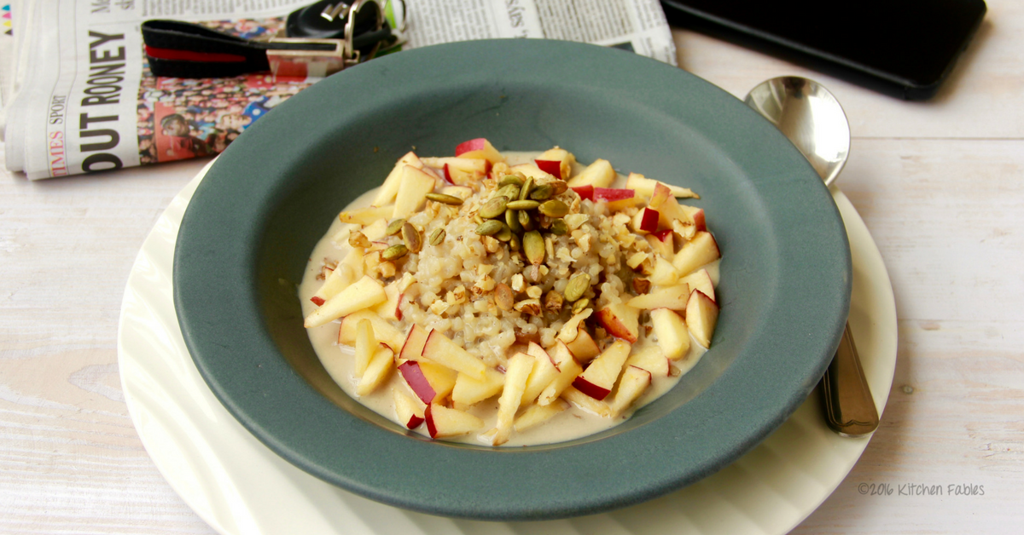 Barley porridge is a whole grain healthy breakfast that can be prepared in 10 minutes , if the barley is cooked before hand. I cook the barley the previous night and keep it in fridge. In fact if you like cold porridge you can add the milk too and keep it in the fridge. Next morning just add fresh fruits and nuts.
To know more about health benefits of Barley click.
| | |
| --- | --- |
| | |
In a pot boil water and add barley. Keep stirring every two three minutes, till the barley is cooked.

Add soy milk, cinnamon powder, nutmeg powder, raisins and boil. After the first boil switch off the flame and add date syrup. If you want cold porridge, you can prepare this the night before and keep it in the fridge

Add apple, walnuts and pumpkin seeds and serve it warm or cold.
This is a vegan recipe and therefore I have used Soy milk and date syrup, you can also use skimmed milk and honey.

You can add almonds ,pecans and other dry fruits of your choice

Instead of apple you can also use banana, mango , pear or berries of your choice.
If you like the recipe please show your support by clicking on the little heart below and if you would like to get notified whenever I post something new, please follow the blog. You will also find us on Facebook, Pinterest & Twitter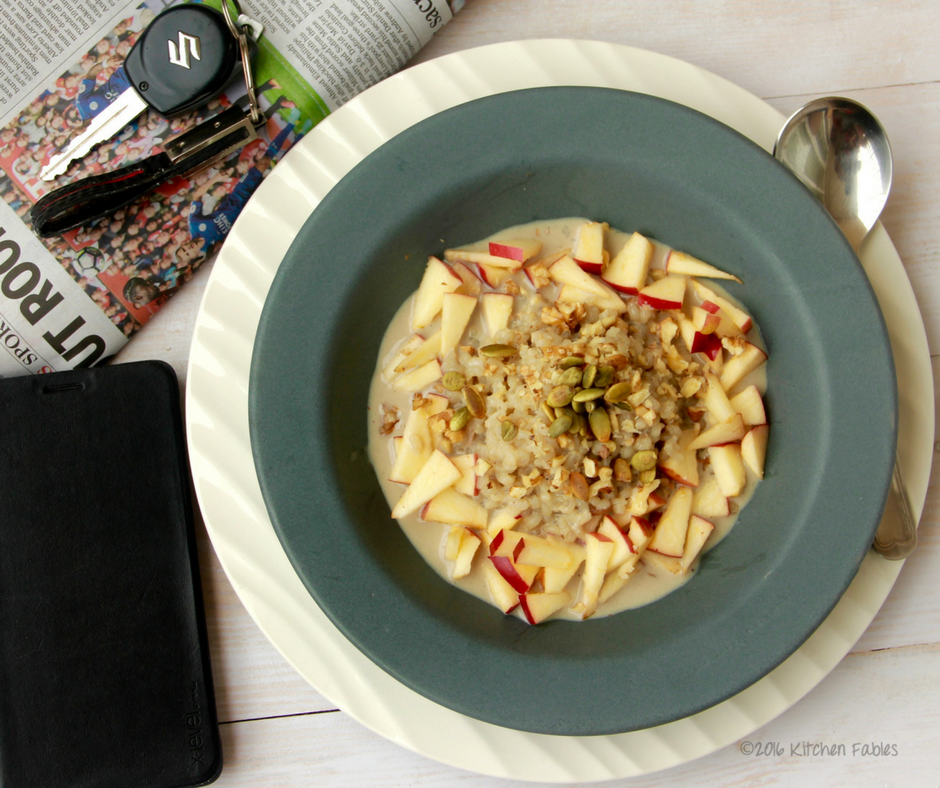 I would love to hear from you on how the recipe turned out for you, please leave a comment and rate it.