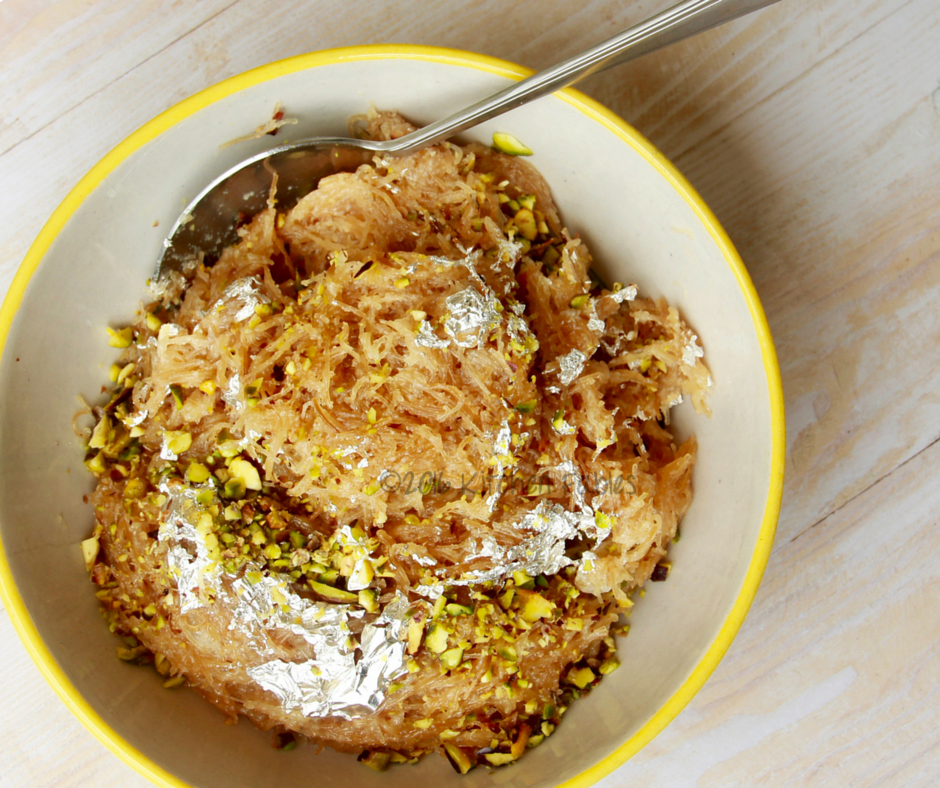 Sewai or Semai or Seviya
Eid Mubarak to everyone in advance. Eid al-Fitr is an important festival for muslims. It marks the end of Ramadan – Holy Month of fasting. Meethi Kimami Sewai is a popular sweet dish served on Eid. At school, I remember my muslim friends carrying an extra box of sewai after Eid that all of us used to relish.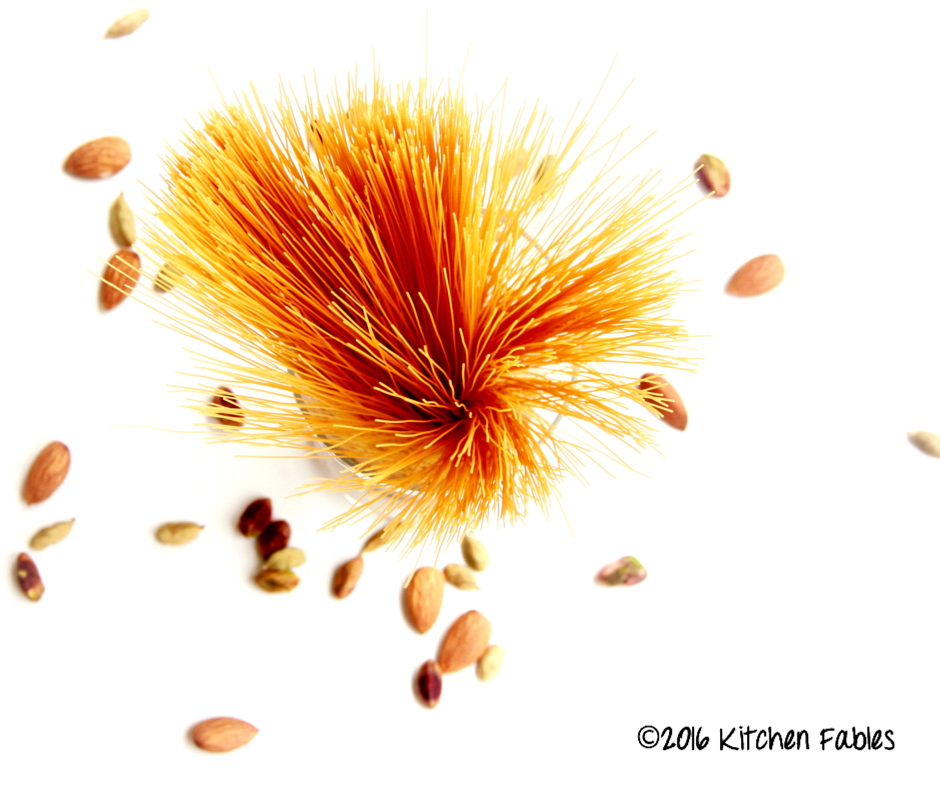 In South India, as well, sewai payasam is very popular, but not many make it as a dry dessert. I love both the creamy payasam as well as the dry dessert version. Kimami Sewai is a dry dessert made from thin vermicelli. In North India the seviyan is sold by thickness and the thickness is measured in "Numbers". For kimami sewai the sewai or vermicelli used is zero number. If you are at a place where you do not get many variety of sewai, go for the thinnest seviya available.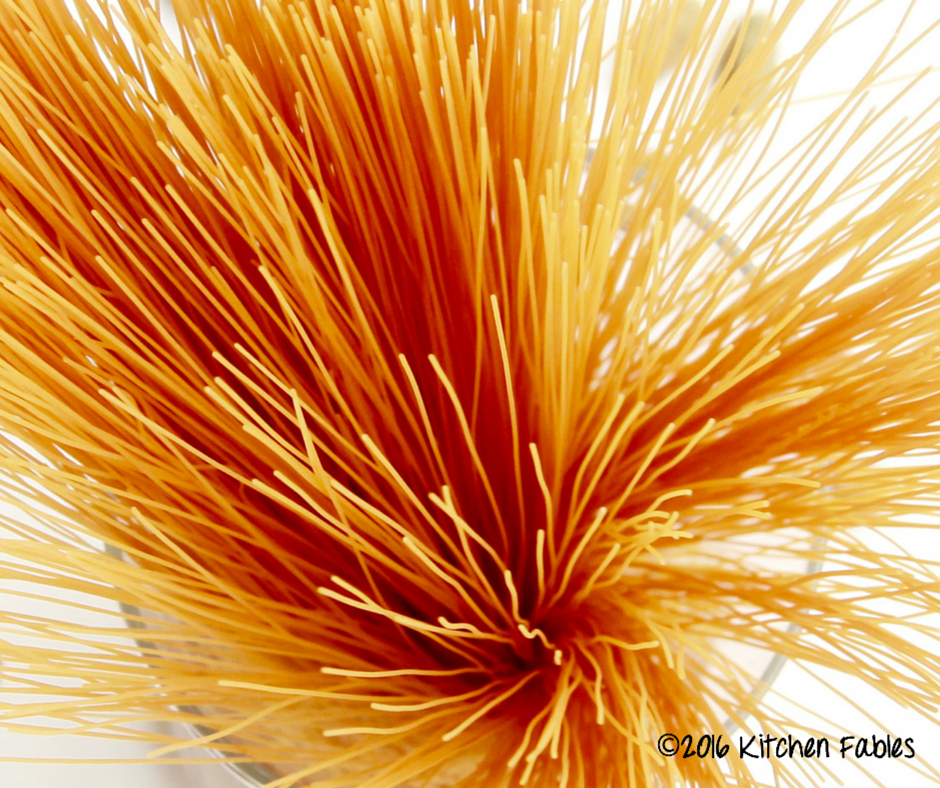 Most sewai recipes are very sweet and to balance the sugar Mawa ( dried whole milk ) is added. This recipe less sugar and instead of Mawa, milk is used , this makes the sewai light without compromising on the richness and taste. Another mystical thing about this recipe is that you do not need to cook the sewai in milk, just leave the roasted sewai in the just-boiled milk and it will absorb all the milk in an hour.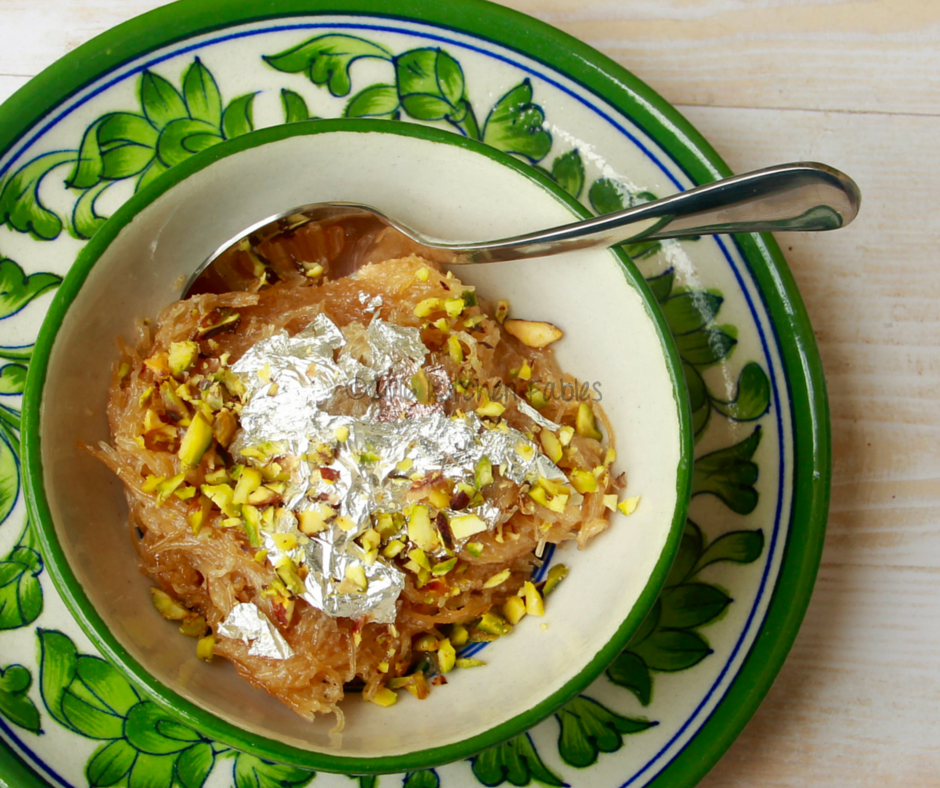 Vermicelli Halwa
In our family other than Eid, another Festival when making Sewai is must, is Rakshbandhan. For rakshbandhan our entire family used to get together to make Chole Bhature and Sewai for brunch.
Kimami Sewai or Seviyan or Semiya or Vermicelli Halwa is a dessert made in almost every household to celebrate Eid. This recipe has comparatively less sugar and instead of using mawa milk is used. Without compromising on the taste and richness, the sewai is made healthier and lighter.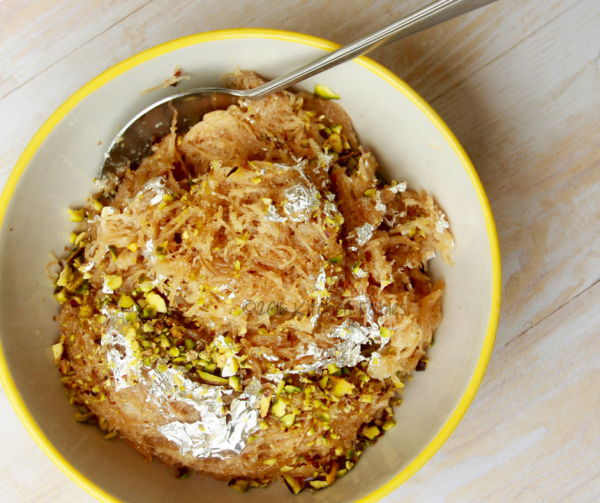 In a big pan heat ghee and fry all the nuts. Take the nuts out and let them cool.

In the pan with ghee add seviyan. Roast seviya on slow flame till it is golden brown. Turn the seviya gently, such that it does not break. Since seviya is very thin, roast on slow flame and stir continuously, such that seviya is roasted uniformly.

When the seviya is roasted well and almost dark brown, add boiling hot milk, saffron, nutmeg and cardamom powder . Switch off the flame and cover the pan with a lid. Let it rest for an 45 minutes to an hour.

After 45 minutes remove the lid. All the milk would have been absorbed in the seviya, if not let it rest for some more time.

Once the milk is absorbed add sugar and roasted nuts. Switch on the flame and stir to mix in the sugar. Keep stirring till the sugar is absorbed and the seviya is dry again.

Decorate the seviya with silver foil and serve hot, warm or cold- as you like it.

If you want to heat it again in the microwave do not put the silver foil.
If you like the recipe please show your support by hitting the little heart below and if you would like to get notified whenever I post something new please follow me.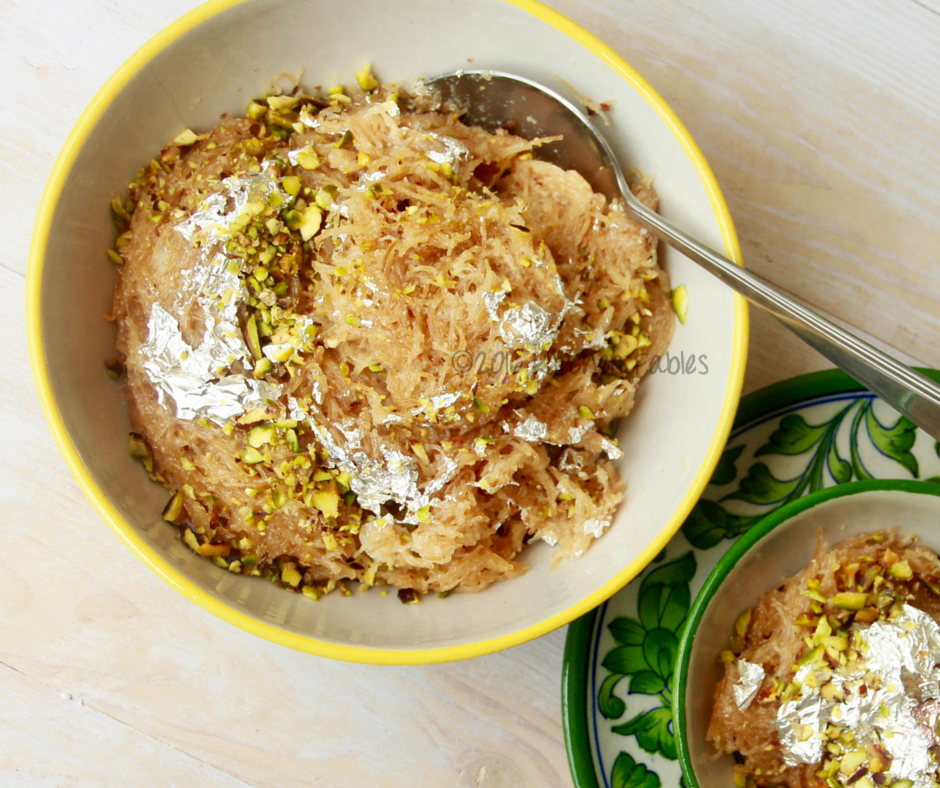 Meethi Sewai or Kimai Sewai
I would love to hear from you on how the recipe turned out for you, please leave a comment and rate it.