This Mother's Day I am sharing with you a very Easy & Light  Chicken Curry.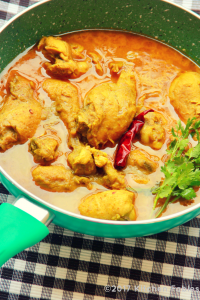 Now if you are wondering why a Chicken Curry for Mother's Day. My mother is an amazing cook herself. However, now a days she is not keeping too well. She is on heavy medication for the last few years. Due to medicine she has lost her appetite and also is not able to relish food. She also has many diet restrictions. She is allowed Chicken once a week, so I thought of making this Easy & Light Chicken Curry which she could eat with rice.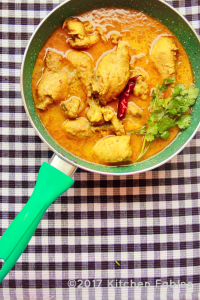 I made this chicken curry keeping in mind that it should be light, not spicy and yet tasty. One thing that I have learnt from my mother is that any food that is made with love will taste great, even if it is simple. Mom can not eat tomatoes, so I used curd. This chicken gravy requires very few ingredients all of which are easily available. To enhance the taste I have used freshly ground spices, but I have used my ready to use onion garlic masala, to save time.
I marinated the chicken with all the spices and curd overnight in the refrigerator. If you are running short of time, I would recommend marinating chicken at least for 3 to 4 hours. Marinated Chicken takes less time to cook. and absorbs all the flavours well.
Mother's Day was extra special as my daughter also loved it. It was rewarding for me to see both my Mom and daughter finishing their portions.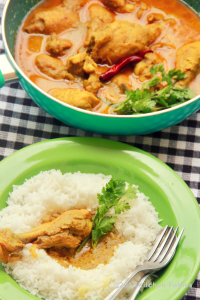 If you like the recipe please show your support by clicking on the little heart on the top.  If you would like to get notified whenever I post something new, please follow the blog. You will also find us on Facebook, Pinterest & Twitter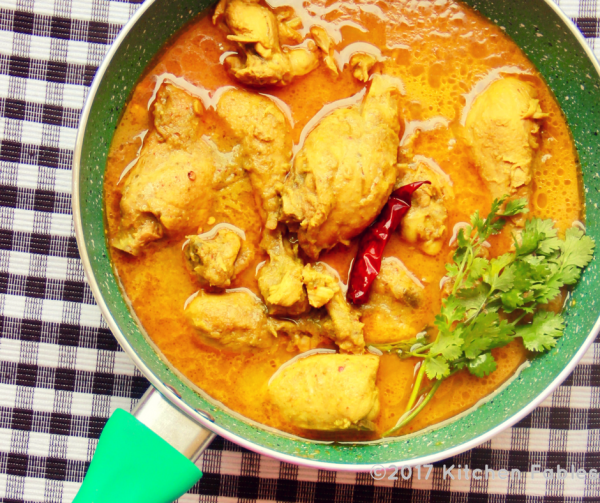 | | |
| --- | --- |
| | |
Dry Roast Coriander Seeds and Red Chillies. Keep it aside for 5 minutes. In a dry grinder powder the coriander seeds and red chillies

Make a paste of fresh coriander, green chillies and ginger along with 2 tablespoon curd

Marinate chicken with coriander paste, dry spices and curd. Keep in aside for minimum of 4 hours or in fridge for 8 hours

To cook chicken heat oil in a pan. Add the marinated chicken .Add salt to Taste. Stir for 6-7 minutes and then add the ready to use onion garlic masala. When the chicken starts leaving oil at the edges of vessel add water according to the thickness of gravy required.

Garnish with Fresh Coriander, Serve hot with steamed rice
If you do not have ready to use onion garlic masala , before adding marinated chicken in the heated oil, add 5-6 cloves of finely chopped garlic. When garlic is light pink add 2 finely chopped onion and keep stirring. When onion is golden brown add marinated chicken and salt.