If you are looking for Egg less Butter Cookies that just melt in your mouth , your search ends here. I first baked these Egg Less butter cookies about three years back , at Cucumbertown's (Platform that hosts my Blog) Bloggers Cookie Swap. In the last three year I have baked the Egg less butter cookies many times . And each time they get over sooner than expected.
My daughter loves these  cookies and so do her friends. This time I let them help with the cooking as well as the eating. It was great fun to do and I loved it! I expected a lot of chaos, which happened (just kidding), but it was also great fun and they were all very excited & willing to help. I often get calls from the kid's in neighbourhood, asking for recipe. In Return I get a sample of cookies baked by kids to taste as a reward. So, if you are looking for various activities that you can do with kids, I would recommend baking cookies.
Though it takes a little extra effort, I like Piping the dough to shape the butter cookies in various forms like roses, ribbons or stars. If you are new to piping or find it difficult just take a small portion of dough with a teaspoon or melon scoop and roll them into small balls of uniform size. You can press a fork on the top to make a criss-cross pattern on the cookies.To ensure that the cookies hold their shape I  refrigerate the cookies at least for 30 minutes. In addition you can decorate the cookies with hundreds and thousands or silver sugar balls. You can also dip the cookies in melted chocolate or drizzle some melted chocolate on them. I prefer them plain.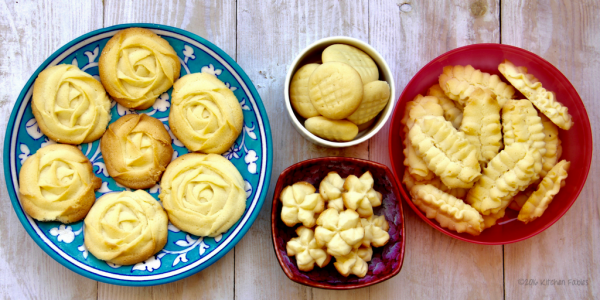 | | |
| --- | --- |
| | |
Sift the Corn Flour and all purpose flour together.

Cream Butter for 2-3 minutes with a beater till it becomes a pale yellow. Gradually add icing sugar also known as confectioner's sugar. Continue beating till the sugar and butter are almost white in colour.

Add Vanilla extract and sifted flour and continue beating at a low speed till the flours are well incorporated. It will take a minute or two.

Add Milk if the dough is dry and crumbly. If you are piping the cookies then it is preferred to add milk. This makes it easier to pipe.

To pipe the cookies, line a baking tray with butter / parchment paper, fit a nozzle in the piping bag and fill half the bag with the dough and pipe the cookies in the desired shapes. I prefer the Start Nozzle as my Daughter loves to call the butter cookies as Rose cookies.

You can also take a small portion of dough in your hand and roll it into a ball. Make a Criss Cross with a fork.

Chill the cookies in the refrigerator for a minimum of 30 minutes.

After 30 minutes, bake the cookies in the pre-heated oven at 190 degrees for 10 to 12 minutes or till the edges start turning golden brown.

Once baked, take the cookies out and place them on the wire wrack. After 15 to 20 minutes store them in an airtight container.