Food is always about memories. There are a few dishes which remain fresh in our memory even after a considerable time. Each one of us have such memories. I had this Tamarind Juice as a Welcome Drink a long time ago at a Spa. After struggling through the traffic &  noisy cars, this cold sweet and sour welcome drink was not only refreshing but also very relaxing. many years later, the taste of that Tamarind Juice is still fresh in my memory
I love experimenting and making new dishes. While I prepare most of the drinks  keeping in mind my daughter and husband,  this tamarind drink was an exception. This was for me and my friends. My friends relish sour tamarind, especially when its sourness is well balanced with the sweetness of jaggery. I made this drink  for my friends and all of them loved it. To my surprise, my husband also loved it.
Served in smaller quantities Tamarind juice is a perfect welcome drink. Tamarind improves appetite and roasted cumin powder, black salt added to the juice assists digestion. In addition, tamarind juice also quenches thirst and has a cooling effect.
This Tamarind juice contains many  micronutrients found in Jaggery and Tamarind.  Jaggery is used extensively in traditional recipes. Jaggery is a healthier alternative to Refined Sugar. Please refer Healthy date Palm Jaggery Kheer  to know more about nutritional facts on jaggery. Tamarind is a commonly used ingredient found in every Indian Kitchen. Tamarind is a rich source of Iron, Magnasium, Phosphorus, Calcium and Vitamin C.
If you like the recipe please show your support by clicking on the little heart on the top. To get notified whenever I post something new, please follow the blog. You will also find us on Facebook, Pinterest & Twitter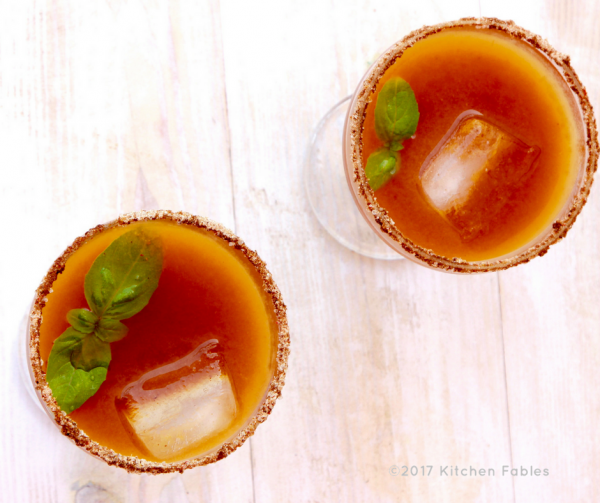 | | |
| --- | --- |
| | |
In one cup warm water Soak tamarind for 30 minutes

Through a strainer take out the pul

Add Crushed Jaggery, Salt, Cumin Powder and stir well

Add more water as per the consistency required. Adjust the amount of Jaggery as per the sweetness required.

Store in fridge upto 3-4 days. Serve Chilled. Garnish with Mint Or Basil Laeves.