Almost everyone, loves Chocolate Truffles and they are so easy to make! Since, Christmas season is nearing , liqueur laced  truffles will be just what you need to gift and keep at home. Most of all what I like about chocolate truffles is that with a single base you can make various flavours and there are various options available to roll them in.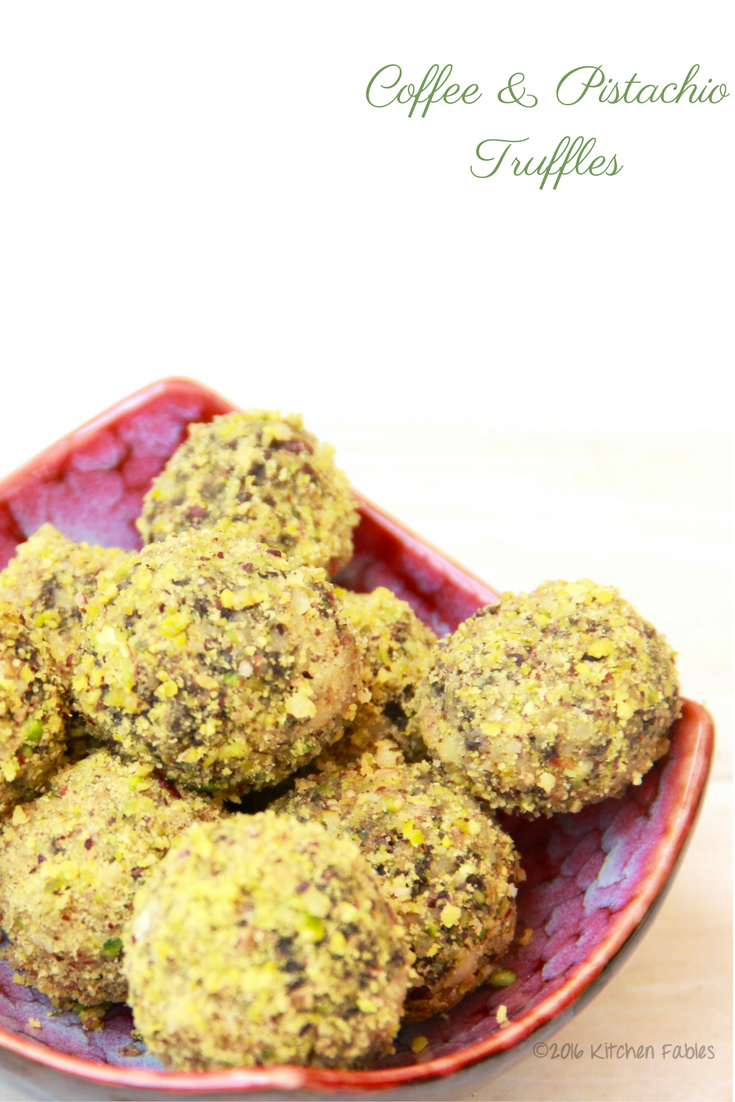 Coffee & Pistachio Truffles
While, It is a joy to work with chocolate , I think more than me my daughter loves it.  Since,  after I finish making the truffles my daughter gets to lick the spatulas. Which is also the only time she thinks of helping me clean up.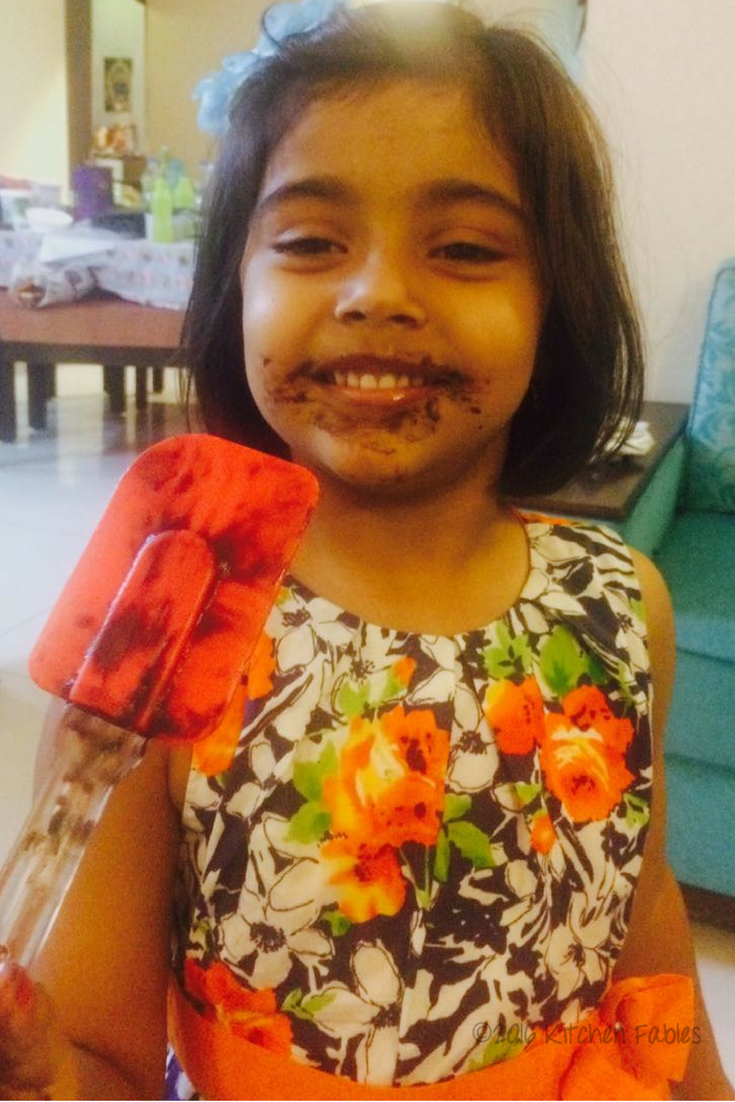 Especially for Christmas, I have used Coffee, Orange and Chilli Flavours to make the truffles. You can make them plain or add other flavours like Bourbon, Brandy , Rum, Cinnamon, Almond or Hazelnut Extract, Mint etc. As you can see there are many many options .
Chilli & Chocolate Truffles
For outer coating you can use Cocoa powder, Confectioners Sugar or icing Sugar, finely chopped walnuts / almond/ Pistachio, desiccated coconut, melted dark , milk or white chocolate.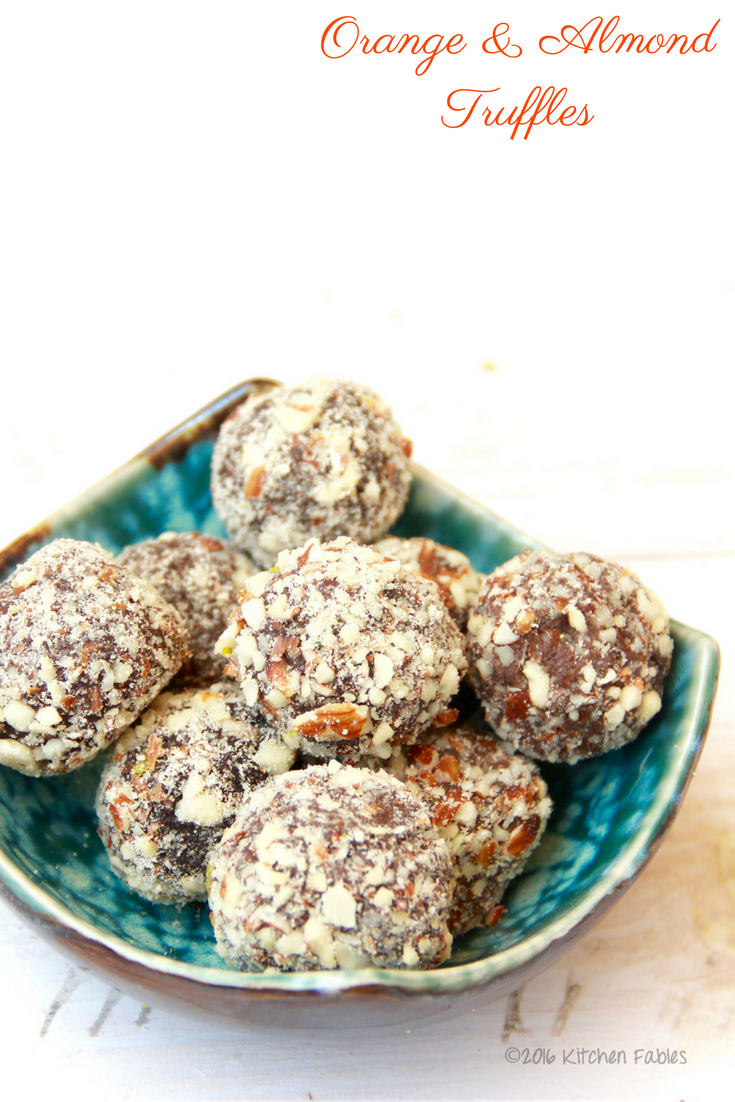 Orange & Almond Truffles
If you would like to get notified whenever I post something new, please follow the blog. You will also find us on Facebook, Pinterest & Twitter
I would love to hear from you on how the recipe turned out for you, please leave a comment and rate it.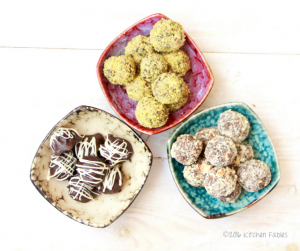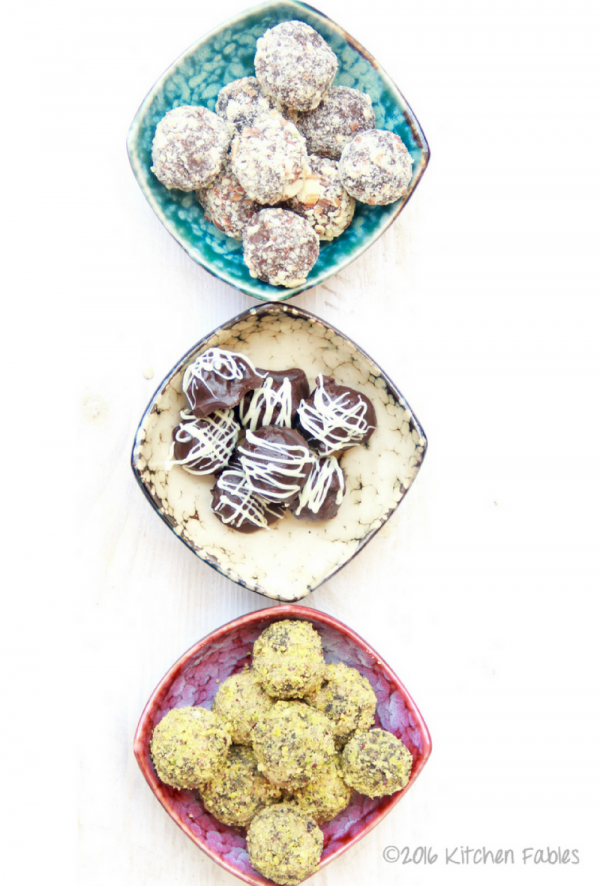 | | |
| --- | --- |
| | |
In a large bowl take chopped chocolate and butter and keep it over the pot of boiling water. Ensure that the bottom of the bowl does not touch the water . Stir continuously and put it aside when the chocolate melts. Do not over heat the chocolate.

In another pan scald the cream, that is, heat the cream on low flame until you see bubbles on the edges. Switch off the gas and stir for 2-3 minutes.

Pour the cream on melted chocolate in the centre and continue stirring till the mixture is smooth and creamy.

Divide this mixture into three bowls equally.

In the first bowl add orange liqueur or juice and rind and stir it gently till it is mixed well

In another bowl add Coffee Liqueur or decoction and stir it gently.

In the third one mix chilli powder.

If you wish to make only one flavour increase the flavouring accordingly.

Keep the chocolate bowls in the fridge for an hour

Take out one bowl at a time and with the help of a melon scooper or a measuring teaspoon, take equal quantity of chocolate mixture and make small balls. Place the balls on a sheet lined with parchment paper and keep it in fridge.

Finely chop the pistachio and almonds or pulse them in a dry grinder separately and keep them in seperate bowls .

For chocolate coating melt the chocolate as mentioned in step 2 or in a microwave. If you are melting it in the microwave, keep the chocolate in the microwave for 30 seconds at a time and take it out and stir. Put it in for another 30 seconds or lesser time if required.

After 30 to 45 minutes take out the chocolate balls from the fridge and roll them in nuts. To coat in melted chocolate, dip the chocolate balls in the melted dark or semi sweet chocolate and take it out and place it on a parchment paper. After 5 minutes drizzle melted white Chocolate