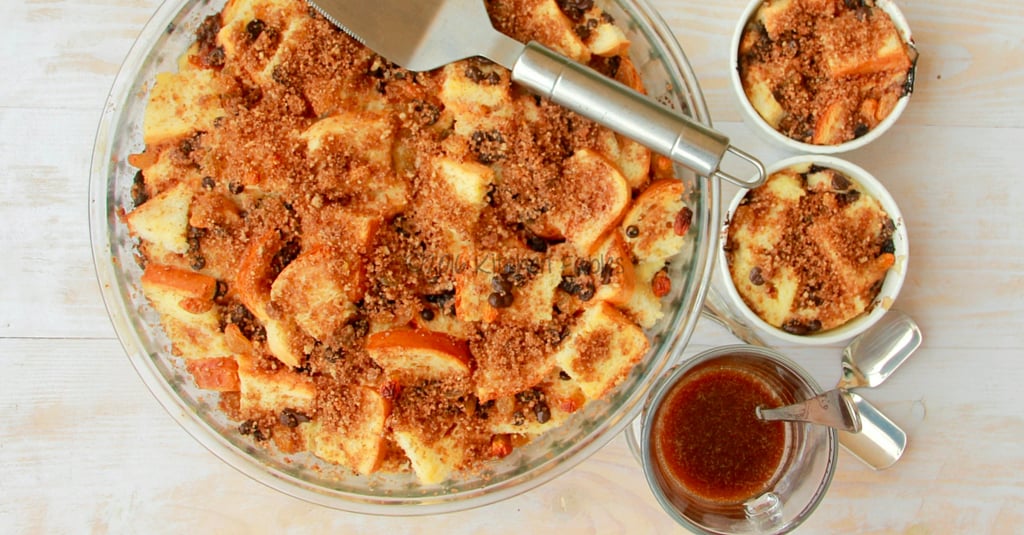 Classic Bread Butter Pudding with Bourbon Sauce
This is a variation of classic bread butter pudding. I have added chocolate chips, covered it with Brown sugar and walnuts and served with a sauce made from whisky preferably Bourbon. The Bread Butter pudding is a classic British dessert and is just perfect for cold weather. It can be served cold too, though I prefer it warm. It is quick to prepare and can be made beforehand and heated just before serving.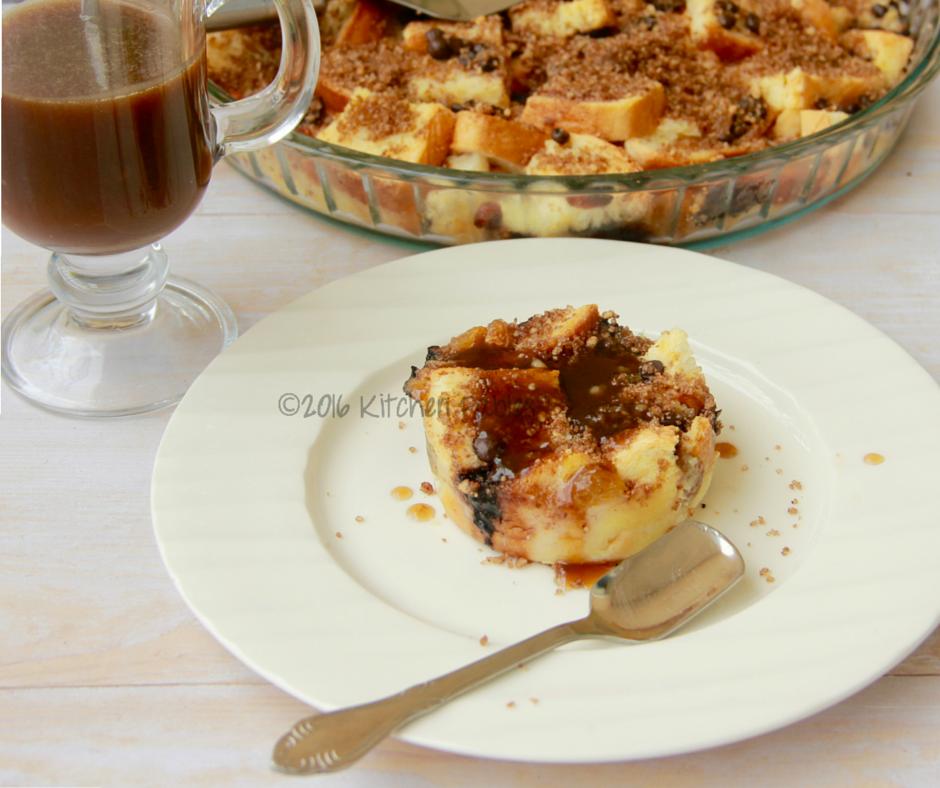 A friend of mine who does not usually have desserts , was at home once for dinner. He wanted to leave after the dinner and I insisted that he should have the dessert. After great persuasion he agreed to taste it, after the first spoon he decided to sit down and finish a complete serving. I have made this dessert many times and have got great reviews every time. As most of the ingredients are readily available at home, it is also one of the quickest desserts to make.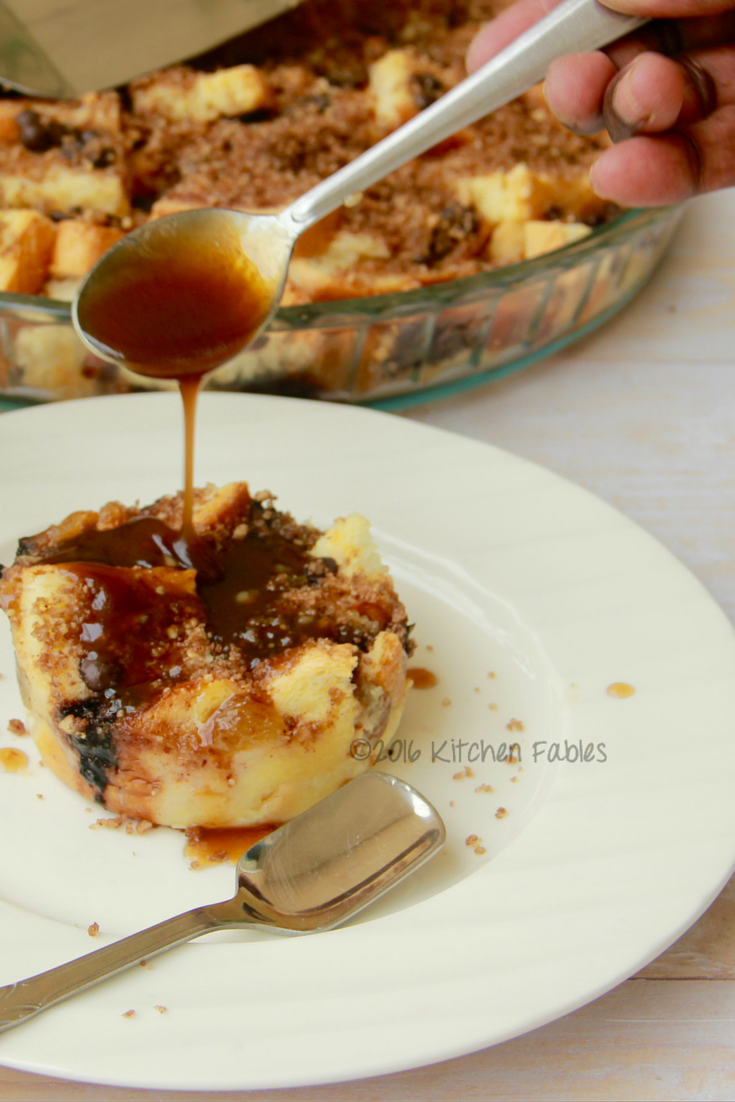 It is better to use leftover bread. However, if you have fresh bread, spread the bread slices in a tray and leave it under the fan for an hour. Bread will loose it's moisture and will be good to use. The sugar in the recipe has been reduced and it is compensated by sugar in the sauce. I have used Jim Beam, although you can use any other Whisky too, preferably a sweeter one. This sauce is fine for kids above 3 years as the alcohol content reduces after boiling and ratio of alcohol in one serving is almost negligible. However, if you want to avoid alcohol , either increase the sugar in the pudding or serve it with caramel or chocolate sauce. If you do not want to serve each guest individually, you can also bake it oven proof serving bowls, so the guests can just pick up their own bowls.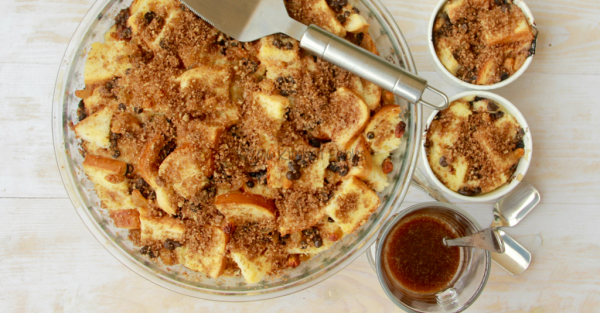 | | |
| --- | --- |
| | |
Use half the butter to lightly butter the bread.

Cut the bread into small squares and place them buttered side up in a greased baking dish.

Put the raisins and chocolate chip in between the bread pieces.

Heat the milk along with the rest of the butter. Do not boil, just heat till you see bubbles on the edges

Beat the egg lightly along with sugar till it is pale in colour

Pour the milk and continue beating till the egg and milk are mixed well. Add vanilla extract and orange liquor and mix.

Pour the mixture over the bread in the baking dish and let it sit for 30 minutes.

In a grinder pulse walnuts, brown sugar, nutmeg & cinnamon powder and evenly sprinkle on the soaked bread.

Pre heat oven at 170 degrees and bake the pudding for 40 minutes or till a toothpick comes out clean.

For sauce heat all the ingredients in a pan, till the sugar is dissolved.

You can prepare the pudding before hand and heat it again at the time of serving. Can serve cold too.

For serving take out the pudding in a plate and put 2 tablespoon or more sauce.
If you like the recipe please show your support by clicking on the little heart below and if you would like to get notified whenever I post something new, please follow me.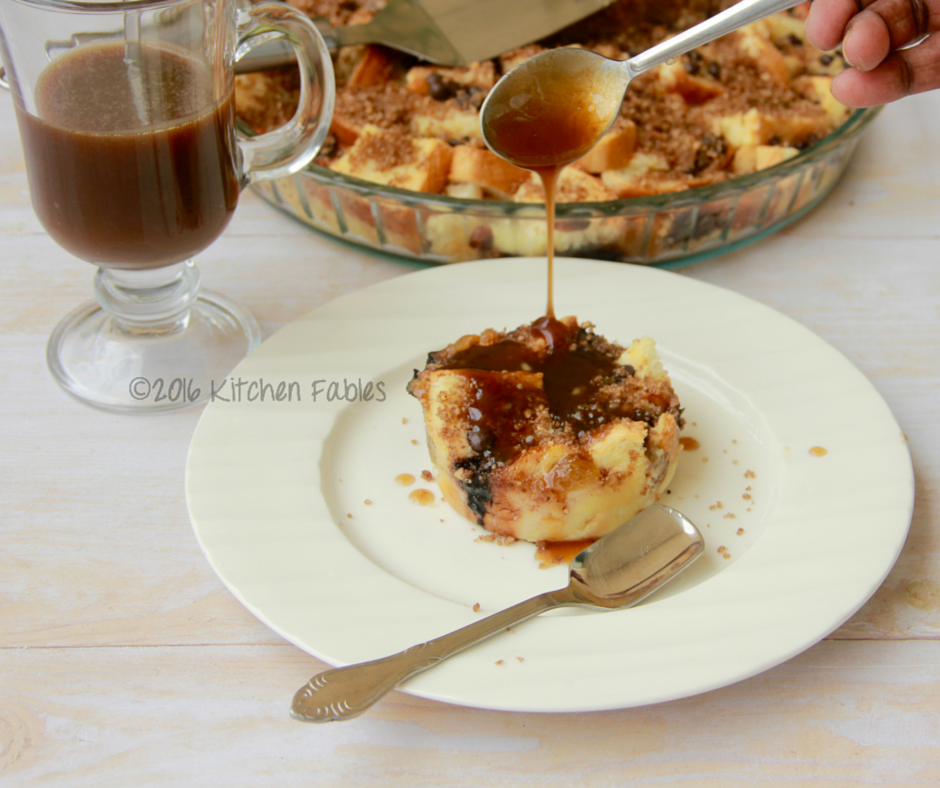 I would love to hear from you on how the recipe turned out for you, please leave a comment and rate it.