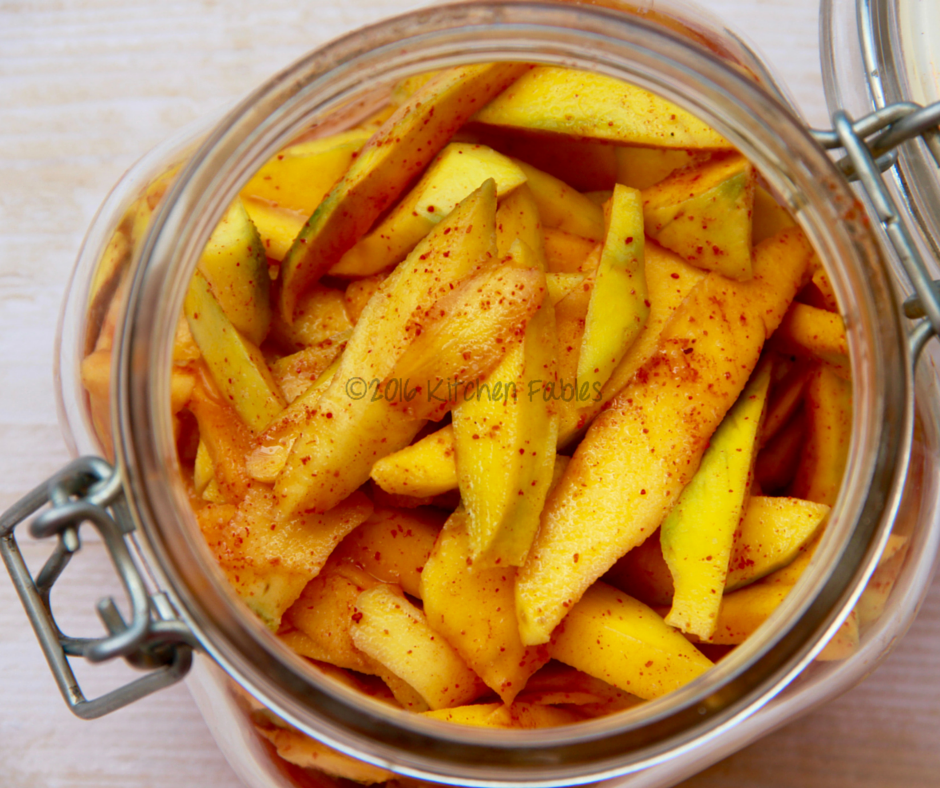 Aam Ka Heengwala Achaar
One of the first pickles that I made. It is very popular in Uttar Pradesh and is called "aam ka heeng wala achar" , as the heeng ( asafoetida ) has a dominant flavour , not overpowering though. This is a pickle that anyone who has a learner licence in the kitchen can make. I call it No Fuss mango Pickle because it requires just four ingredients and is takes hardly any time. The most time is taken to wash , wipe and cut mangoes, once that is done , it only takes 5 minutes.
Few things that need to be taken note are:-
The pickle should not come in contact with moisture. Use a dry spoon to mix.
Measure the weight of mango after slicing. The measurements here are given for 1kg sliced mango.
Ensure that you put the mangoes in a clean dry jar. The jar should be washed with hot water and wiped dry with a clean cloth.
Keep the pickle in the sun only during the daylight. Before the sun sets bring the pickle indoors.
If you are making pickle in large quantities, always transfer it to smaller quantities in another jar for daily use.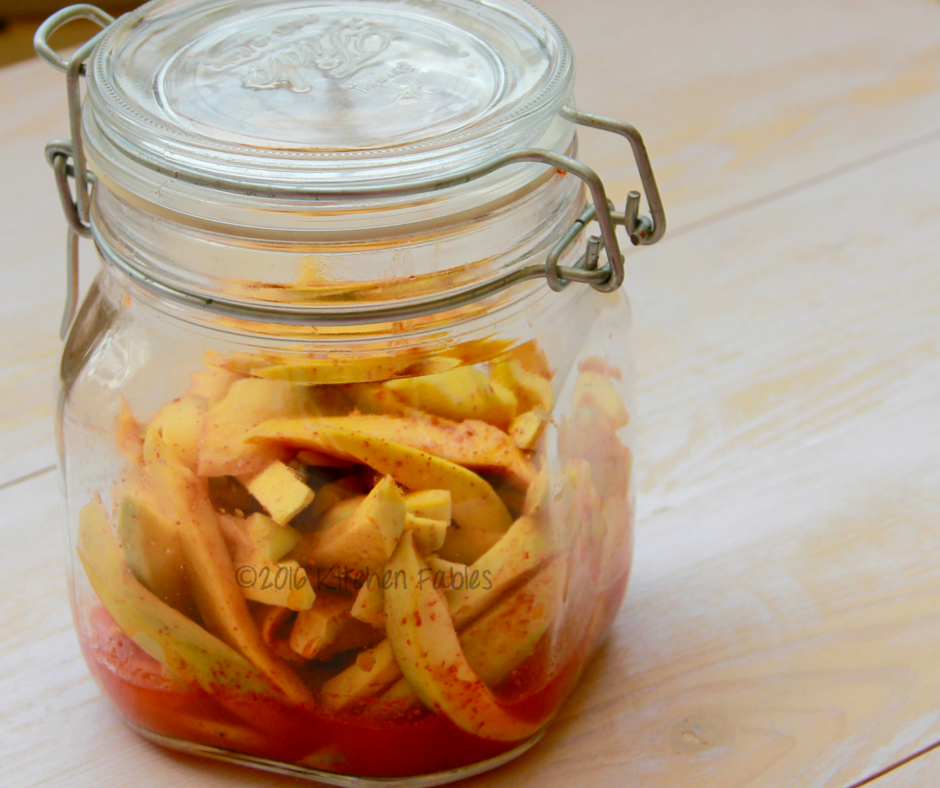 Raw Mango Pickle
This pickle goes well with a simple daal rice meal, mathari, can be used in toor daal recipe if raw mangoes are not available. If you like sweet pickles you can also add sugar in the same quantity as salt . You can also replace red chilly powder with garam masala in the same quantity.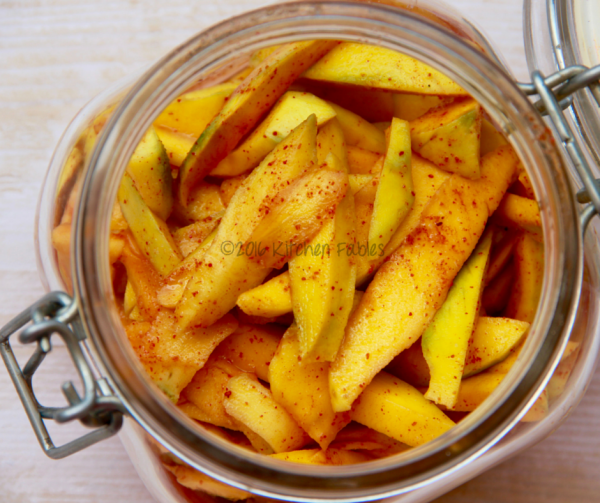 Passive Time

2880

minutes
Passive Time

2880

minutes
Wash and wipe the mangoes dry. Peal the mangoes and slice them. Weigh the sliced mangoes. Approximately from 1.25 kilo mango we get 1 kilo sliced mango.

in a clean and dry glass jar put mangoes, chilli powder , salt and asafoetida. mix well.

Put the jar in the sun for 2 days in the morning and take it back indoors in the evening.

The pickle is done if the mango is soft. Depending on sunlight the pickle will be ready in 2-3 days.
If you like the recipe please show your support by hitting the little heart below and follow me.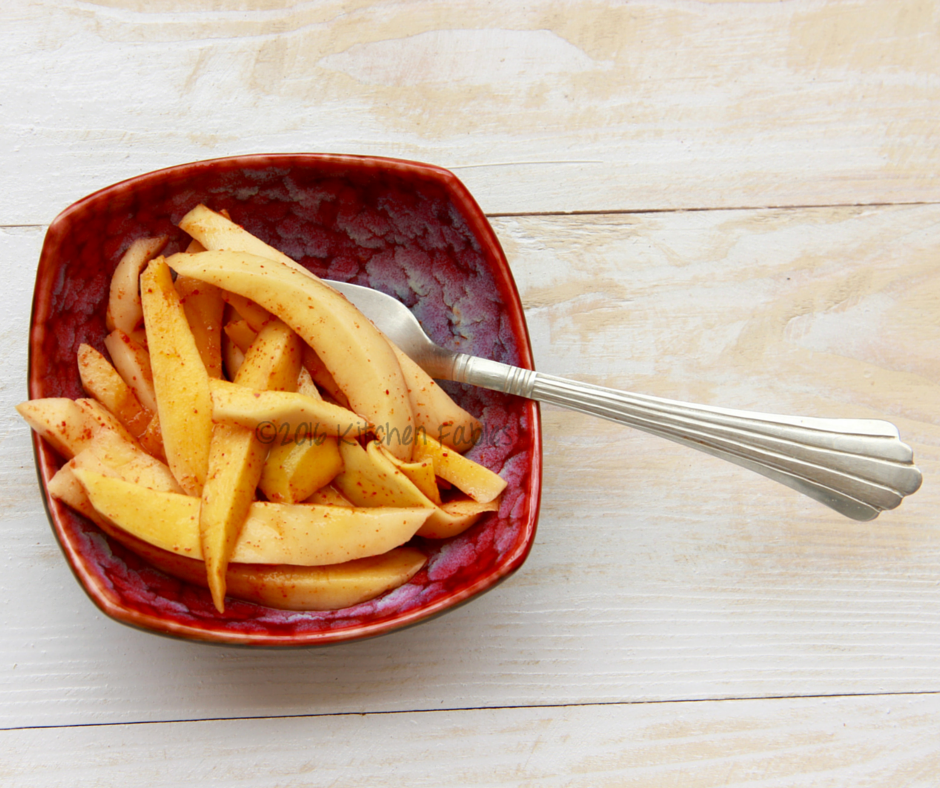 I would love to hear from you on how the recipe turned out for you, please leave a comment and rate it.