When you hear " Malai Prawn Curry" , the first thought that comes to mind is something heavy and rich , full of cream ( malai). The surprise is that there is no cream required.  The "Malai" in the name of the dish just refers to the creamy texture. With just 7 ingredients you can make this Malai Prawn Curry  in less than 30 Minutes .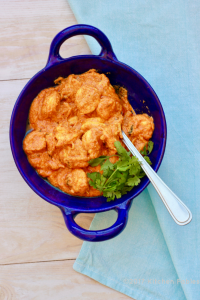 Like other seafood, I started eating prawns after I moved out of my parents house.  Till date, I find cleaning prawns difficult and rely on the seller in our neighbourhood to clean the prawns for me.  Once cleaned prawns are easy to make.  They do not take much time to cook as well.  I would suggest making the curry just before serving as the dish tastes better if served hot.  Reheating may result in over cooking the prawns. Over Cooking prawns may make them Chewy.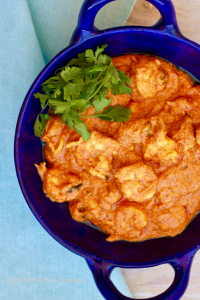 Malai Prawn Curry goes well with both Rice and Chapati ( preferably Paratha ).  I served it with Red Rice.  Without using too many spices in this recipe, I have neutralised the sweetness of coconut milk with the flavours of Mustard and Chilli. Unlike Fiery Prawns in Goan Recheado Masala  the Malai Prawn Curry is milder in taste , but is equally popular in my friend circle.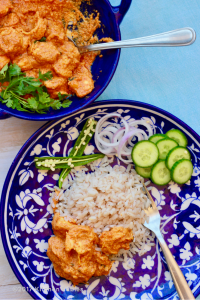 Unlike fish, which may have bones  or crabs , which are a lot more time consuming and cumbersome to eat , prawns are easier to eat too. It is easier to eat Prawns since there are no Bones , no shells.  The only drawback being they get polished off much sooner than you would expect.
If you like the recipe please show your support by clicking on the little heart on the top.  If you would like to get notified whenever I post something new, please follow the blog. You will also find us on Facebook, Pinterest & Twitter

| | |
| --- | --- |
| | |
Whip the Curd, Red chilli powder, Mustard Powder, Salt and Marinate Prawns in it.

In a Pan Heat oil and put marinated prawns. Continue stirring for 7 to 10 minutes.

Once the gravy is thick and has covered the prawns add coconut milk. Stir for another 3-5 minutes, till the oil starts separating. Garnish with fresh coriander and Serve Hot !!