I have been away for a long time. Festival time is always so busy! Now I am back with an Easy and Healthy Recipe of Nutritious One Pot Meal Vegetable Khichdi
 Festivals are fun as one gets to meet relatives , friends and spend time with family. I had a great time this Diwali, as we had card sessions and potluck dinners almost every day. All this requires a lot of work, and though I enjoyed cooking and baking for my family and friends, I think I exerted a little too much and as a result hurt my shoulder.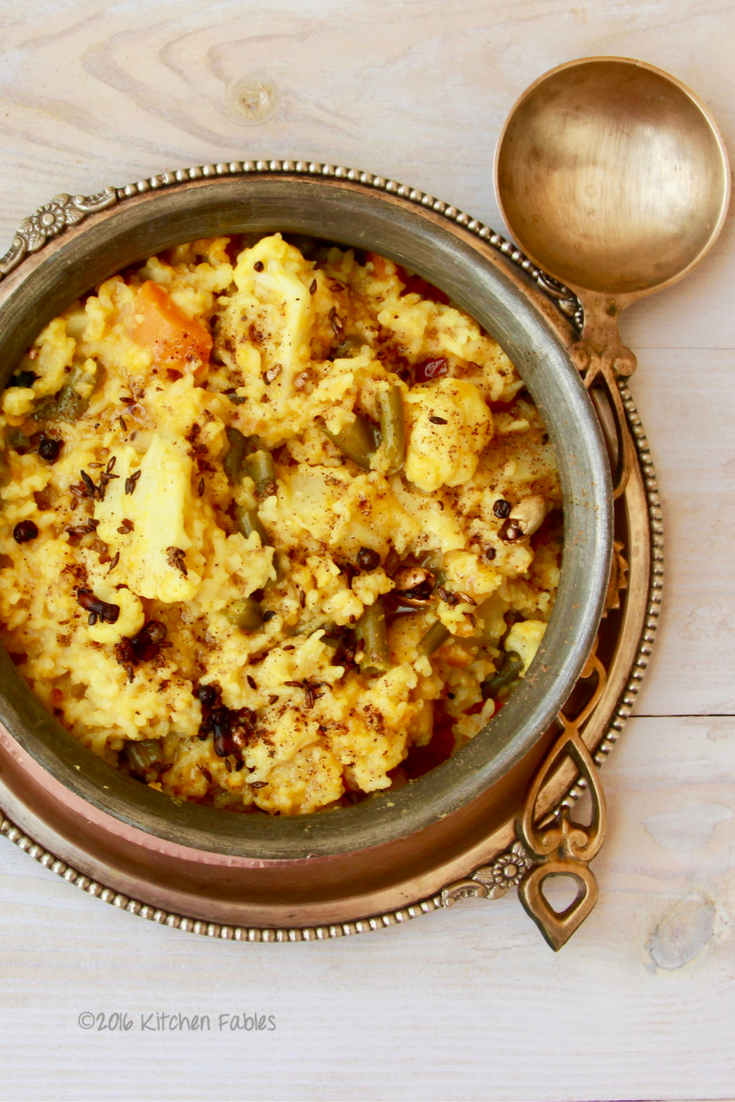 Festivals in India are all about indulging in sweets, fried savouries. Nutrition, as usual, takes a back seat or even worse gets thrown out of the window. So now I am trying to get the entire family's eating habits back to normal, especially my daughter. We have been talking to her about various types of food for some time now. To ensure that she develops a habit to eat more vegetables , we have a game plan for her. Every time she eats a vegetable, she gets a " star". Some vegetables are more star-worthy than others. For example potato is a one-star vegetable while bottle-gourd is a 3 star-vegetable. The stars are shown on a chart on the fridge so she sees them at every meal. Try this if you have younger kids and struggle to include all vegetables in their diet.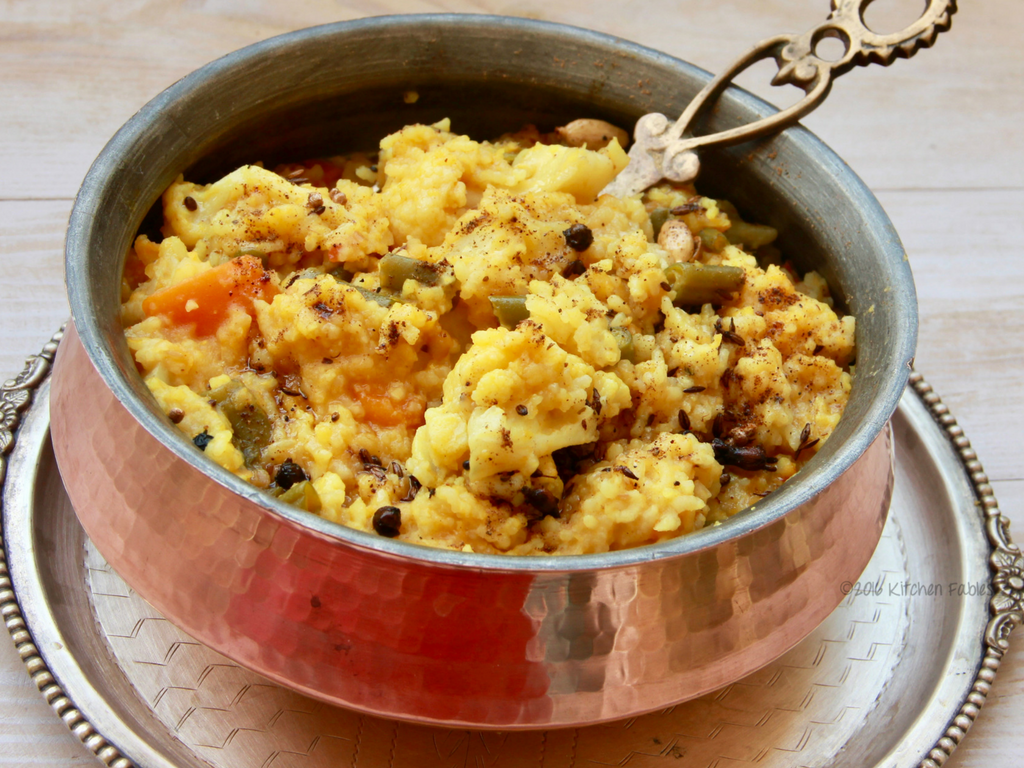 As most of us are recovering from the indulgence of Diwali, I thought of making this Nutritious One Pot Meal Vegetable Khichdi which has dals, vegetables and rice. A wholesome nutritious meal. An ideal recipe for Bachelors or for the days when you don't want to cook an elaborate meal.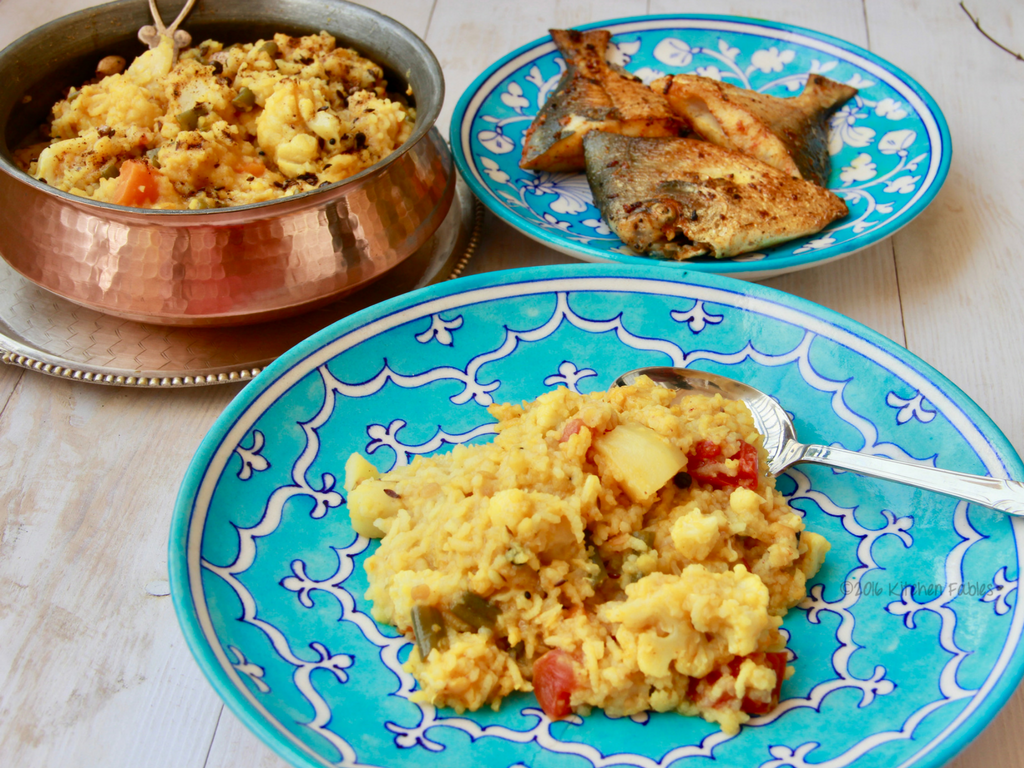 If you like the recipe please show your support by clicking on the little heart below and if you would like to get notified whenever I post something new, please follow the blog. You will also find us on Facebook, Pinterest & Twitter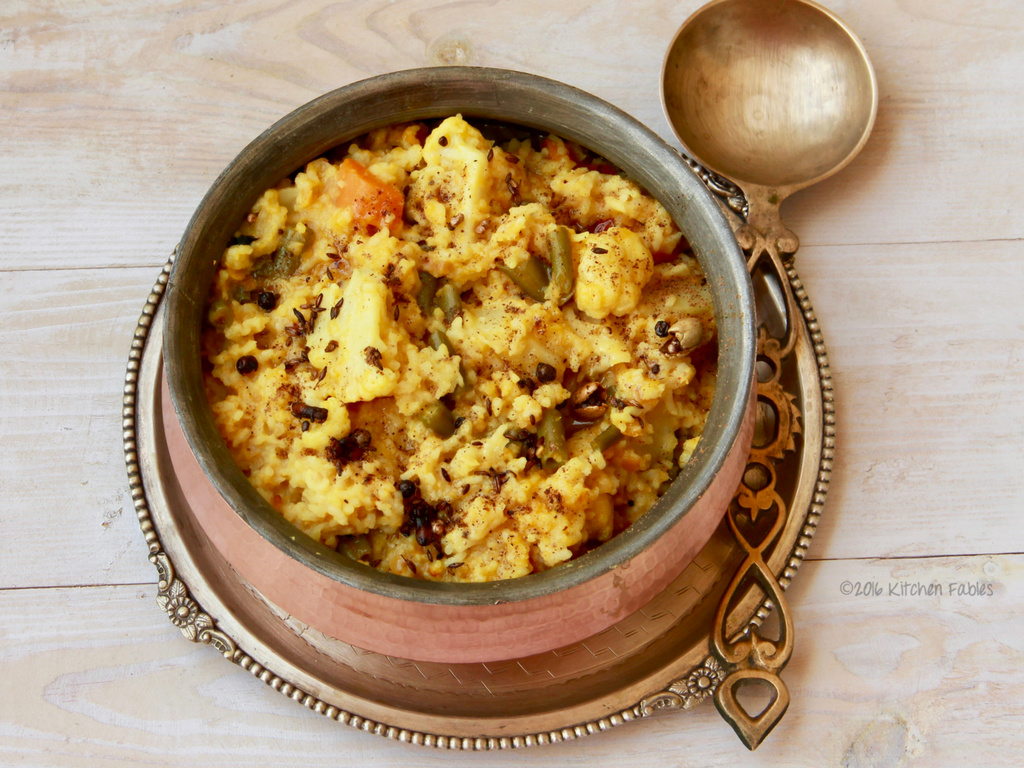 I would love to hear from you on how the recipe turned out for you, please leave a comment and rate it.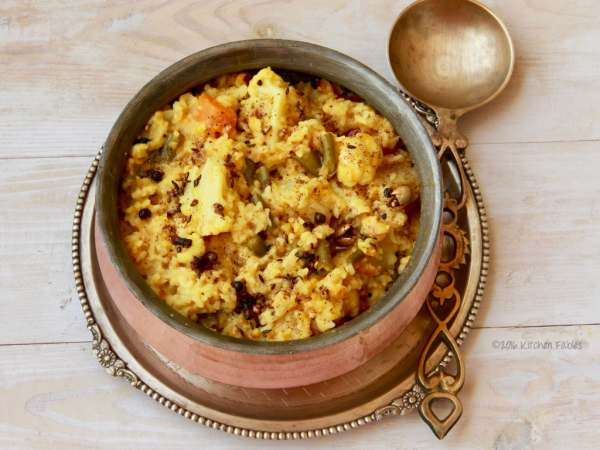 | | |
| --- | --- |
| | |
Wash and Soak the rice in water for an hour.

Roast the lentils in a pan and keep aside.

Roughly chop all the vegetables. Cut Potato & Tomato into 8 pieces, carrots into cubes of one inch , cauliflower into large florets and beans into half an inch long pieces.

Heat the Ghee and oil in a pressure cooker and add asafoetida, then Cumin seeds and after 15 seconds mustard seeds.

When mustard Seeds start crackling add all the whole spices ( green cardamom, black cardamom, black pepper , cloves, cinnamon, bay leaf) and stir.

Add Ginger and stir, when the ginger turns pink , add turmeric and red chilly powder.

Add all the vegetables and stir for 2-3 minutes

Add roasted lentils and stir.

Drain the water from rice and add rice and stir for 2 minutes.

Add water and salt and pressure cook. After the first whistle lower the flame and switch off the flame after another two whistles.

Open the cooker after 10 -15 minutes. Drizzle some clarified butter ( ghee ) & Serve hot along with pan fried veggies or fish.