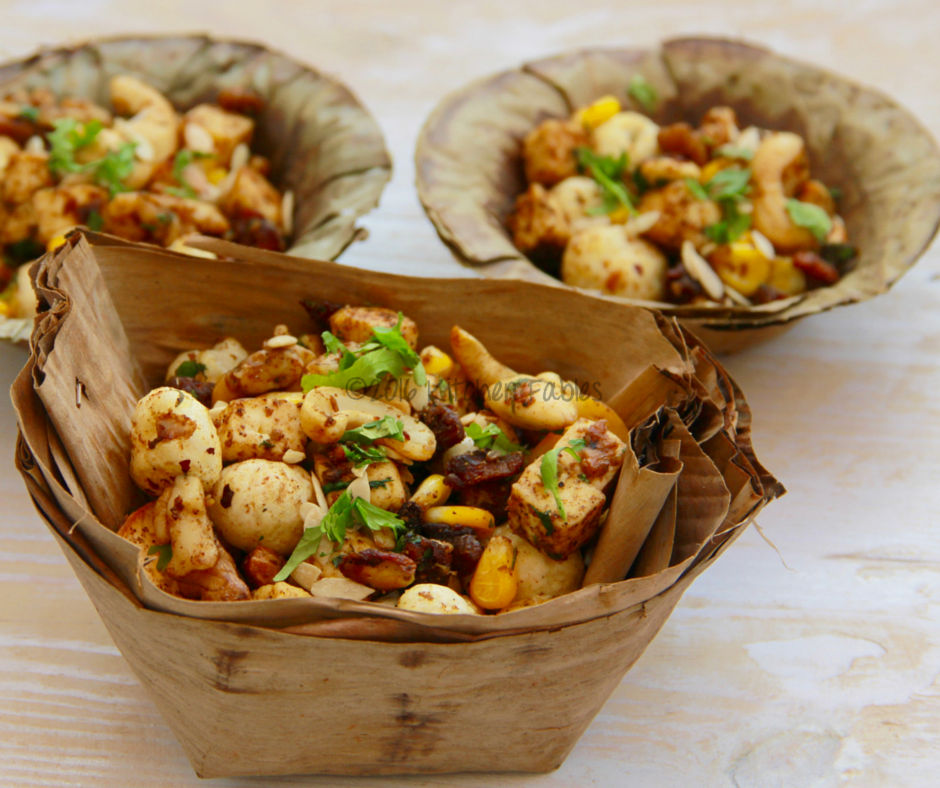 Dry Fruit Chaat
Dry Fruit Chaa
t sounds unique and tastes awesome. I have lived and visited cities like Varanasi, Lucknow , Delhi etc which are known for their variety of c
haat
. In fact I have not come across many places in Bangalore that serve good
chaat.
Chaat is a must eat on my visits to Delhi and Lucknow.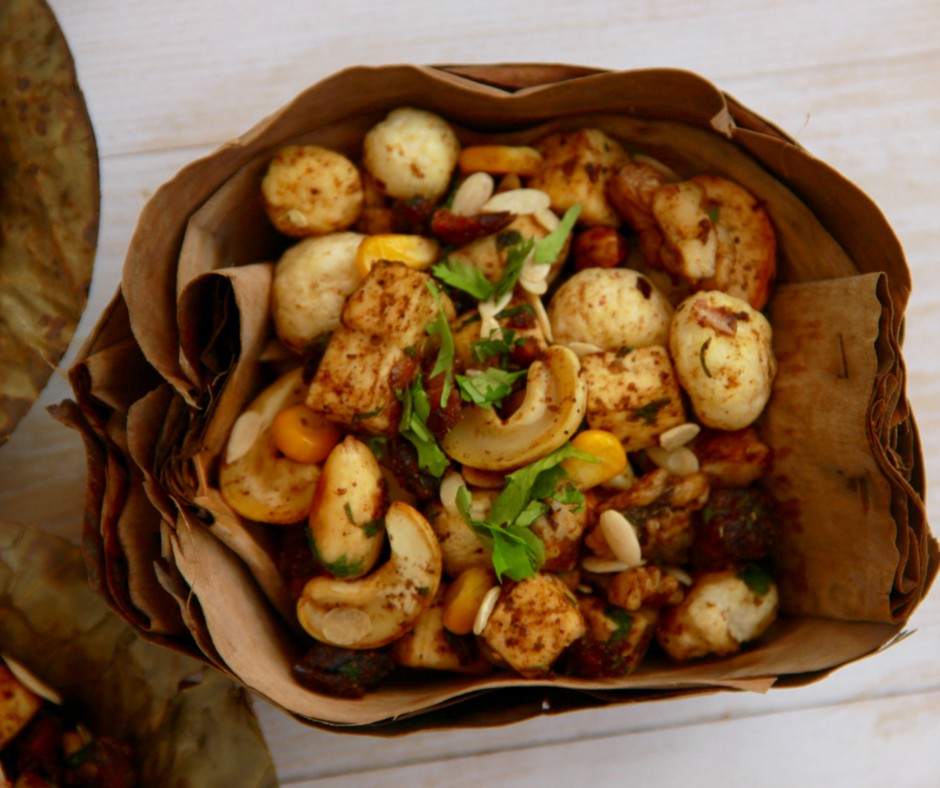 Mewa Chaat
North Indian Weddings are know for their grandeur and elaborate spread of food. A chaat counter is a must. One of the dishes that is a " star attraction" nowadays is the
dry fruit chaat.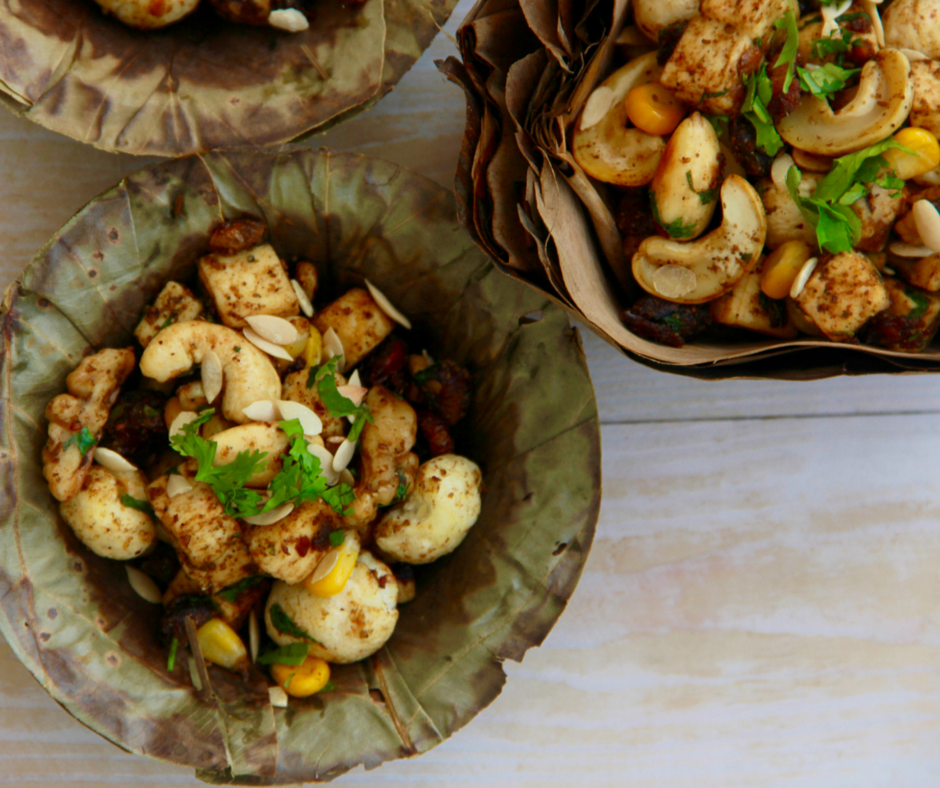 Dry fruit chaat with hot chai during the rains is a perfect home-made snack. It can also be served as a starter in large gatherings. Dry fruits are normally associated with sweet dishes, but this a savoury preparation. Serving it as a savoury chaat will definitely be a novelty.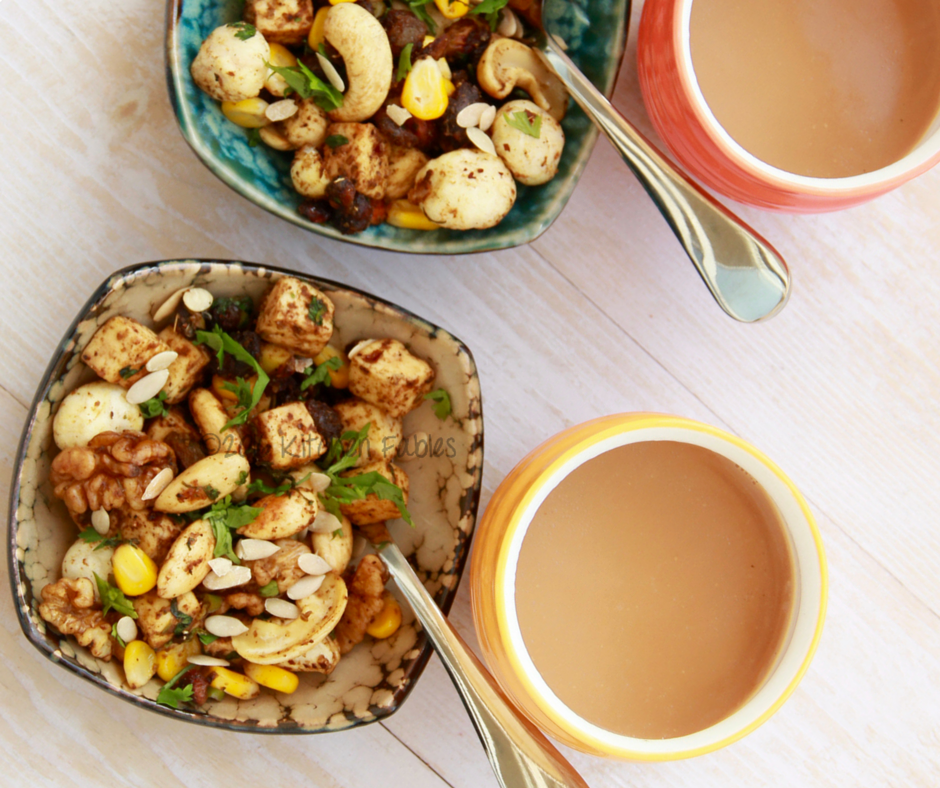 Healthy Snack
Dry fruits are a good source of nutrition. As kids we were told to eat a handful of nuts everyday. For the last 2 years after I started consulting a nutritionist I made it a point to include nuts in my daily diet as a mid morning snack. I carry a small box of nuts in my bag whenever I travel or go shopping, to avoid the urge to eat junk food when I am hungry.
My grandmother who lived in Rawalpindi before partition used to tell us that when coming from Pakistan they left their jewellery and other valuables with their neighbours thinking that they will go back to Pakistan shortly. The only valuables they carried with them were pine nuts and other dry fruits to eat on the way. Good dry fruits were not easily available earlier and if they were available they were very expensive.
Anyone travelling to Jammu & Kashmir, were requested to bring back walnuts, those who travelled to Goa were asked to bring back cashews. Nowadays thanks to online stores, one can source any good quality product from wherever they are. One such store is
Place of Origin
, that provides good quality and a variety of dry fruits, especially the ones that are not easily available in the local market.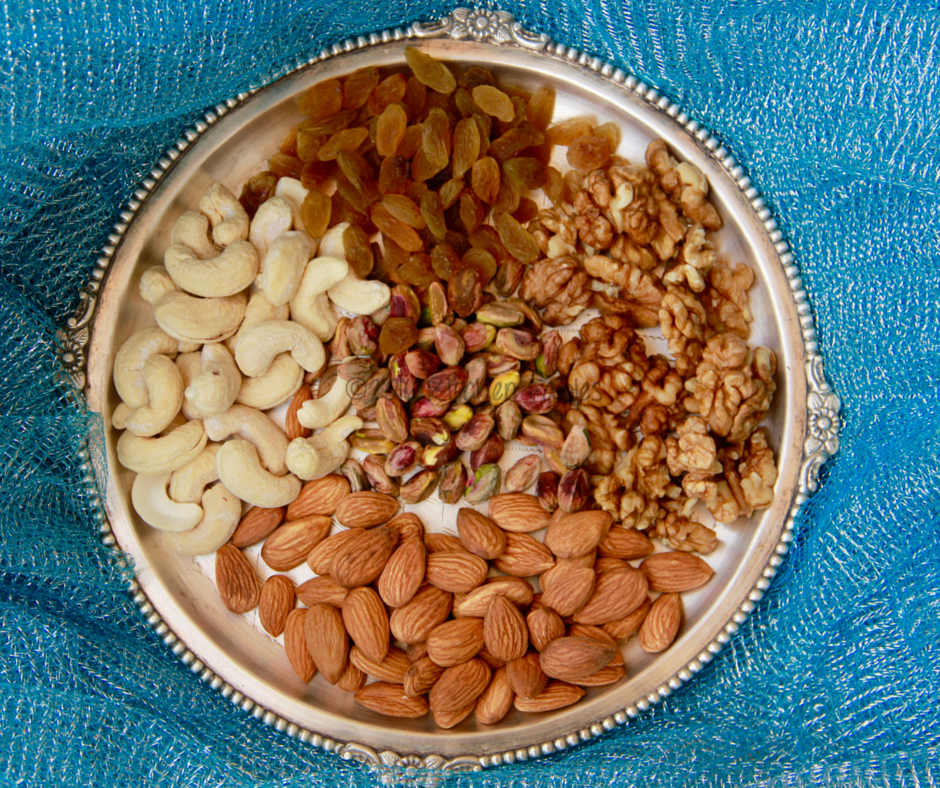 Dry Fruits – A healthy Snack
There is a myth that one should avoid dry fruits due to their high calorific value, but this ignores their nutritional value. Include them as part of your daily diet.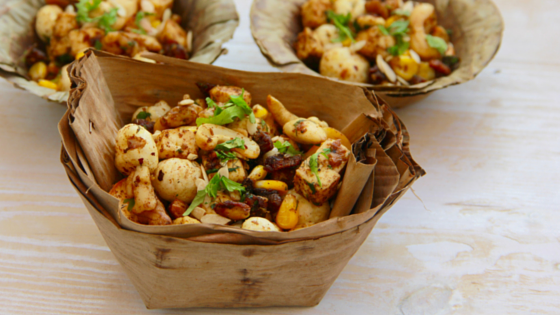 Soak the cashews, almonds and raisins separately in water for two hours.

Drain the water from all three.

Peal off the almond's skin

Chop the dates, green chilly , coriander finely

Cut the pistachio into 2 and walnuts into 4 pieces

Cut the cottage cheese in small cubes.

Blanch the corn for a minute and later drain the water

Dry roast the lotus seeds in a pan till they are crisp and crunchy.

In a pan heat 1 tbsp. ghee. Add cashew and almonds and when they turn pink add the raisins. Stir for a minute and then add walnuts, pistachio and dates. Add 1 teaspoon of chaat masala, cumin powder, black salt and 1/2 teaspoon garam masala

In parallel, in another pan, heat 1 teaspoon of ghee, add cottage cheese and stir. When the cheese starts turning pink add corn and add 1/2 teaspoon of chaat masala and 1/4 teaspoon of garam masala. If you are not going to consume the preparation immediately, you can stop at this step and resume at the time of serving.

Mix the ingredients of the second pan in the first and stir. Squeeze a lemon over the mixture and stir. Switch off the flame. When the lemon juice dries add roasted lotus seeds and chopped green chilly.

Garnish with roasted musk melon seeds and chopped coriander.
If you like the recipe please show your support by hitting the little heart below and follow me.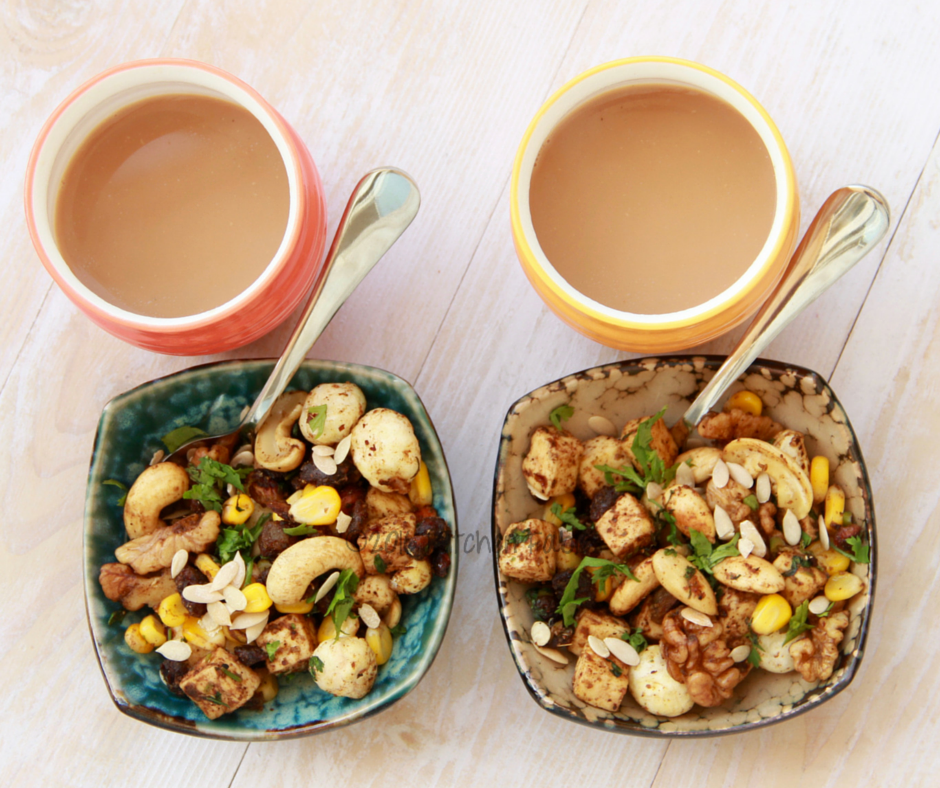 I would love to hear from you on how the recipe turned out for you, please leave a comment and rate it.