If there is one dish which can be a subject for a doctorate it is Sambhar. Sambhar is primarily a South Indian Dish, and it has a different taste in each state. Actually a state is too large an area, Sambhar recipes change every few kilometers in South India. Atlthough the primary ingredients remain the same, the proportions and style of cooking makes a lot of difference in the final outcome.
Sambhar can be had with Idli, Dosa , Vada or Rice. With Idli , vada or Sambhar I like the Tamil style Sambhar but with Rice I prefer Kerala Sambhar.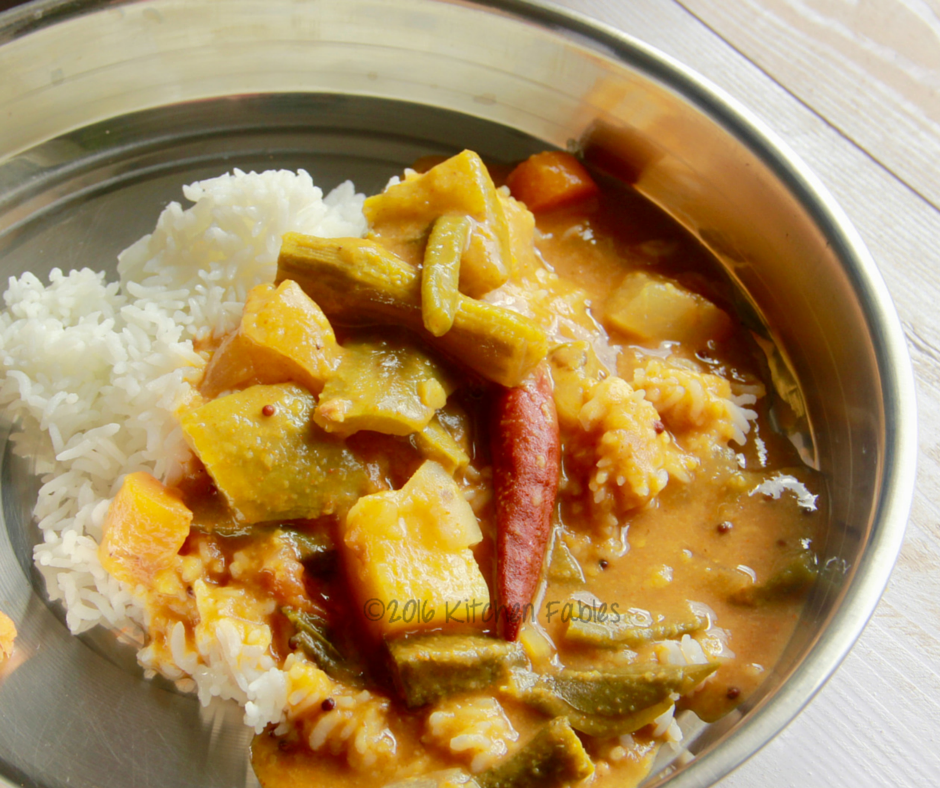 When I was newly married, I would everyday ask my husband " What will you have for lunch " ( I picked up this habit unknowingly from my Mom). For the first three days his response was Sambhar & Rice. I couldn't help asking him how he could eat the same Sambhar Rice everyday and his response was that this is, by default, what he has had for lunch his whole life.
I was so used to eating a different dal or vegetable everyday that this was a shock to me. It was only later I realised that though the dal is the same the Sambhar is made with a different vegetable everyday. On a particular day it will be ladyfinger Sambhar , another day radish and so on. One primary vegetable along with shallots . The Kerala style Sambhar though requires multiple vegetables.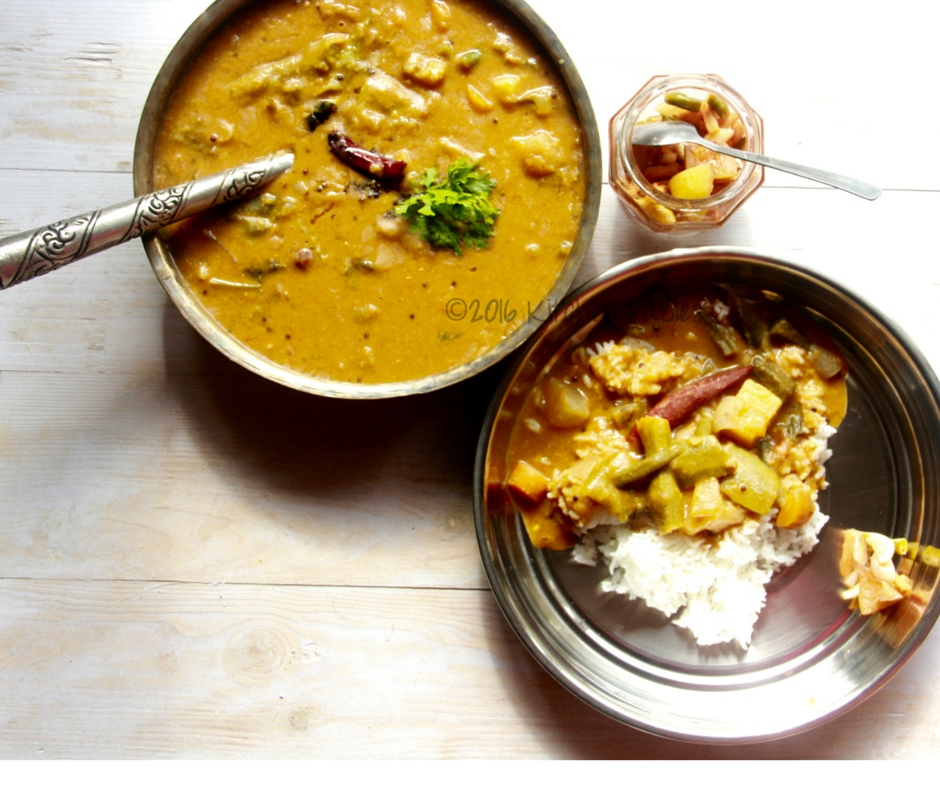 Another key ingredient of Sambhar is Sambhar Masala. During my early childhood Sambhar masala was not readily available in North India. Whenever my father travelled to South India, his shopping list would not only include silk sarees, Pearls and semi precious stone jewellery but also Sambhar Masala of 777 brand. Now a days in any super market you can find Sambhar masala of various brands and each one will have a different flavour. For Kerala Sambhar, Eastern sambhar Masala was recommended by my friends from Kerala.
There is so much more that can be discussed and written about Sambhar, but I will take that up later and go directly to the recipe. In this post I have used assorted vegetables. You can add or remove vegetables as per your preference. For this Sambhar all the vegetables are cut into larger pieces than usual- Approx 2″ big pieces.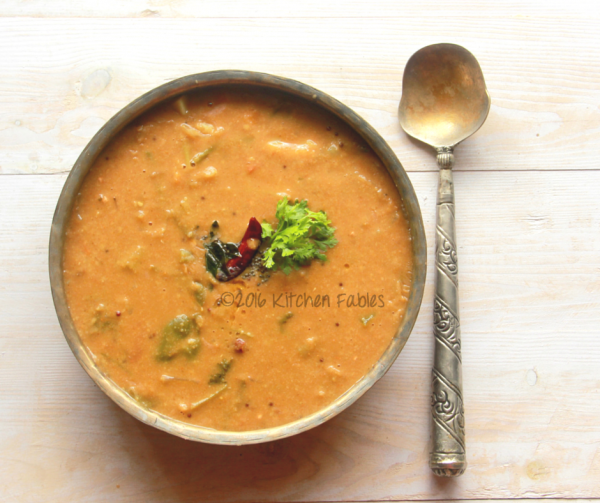 5/8

Cup

Pigeon Pea Toor Dal

Skinned & Split or
3 Cups Vegetables Cut in Chunks
Wash dal and soak for two hours

Soak tamarind in hot water for an hour and take out the pulp

In a pressure cooker cook dal with water and salt. Water should be 1/2" above the dal. After 2-3 whistles switch off the gas.

Cut all the vegetables into bigger size chunks

In another cooker heat oil and add asafoetida and 10 seconds later mustard seeds.

When mustard seeds crackle add curry leaves , Red Chilli and stir.

Add all the vegetables and stir every two - three minutes till the onions are translucent, tomato's skin starts separating from pulp. Stir frying is important, as it removes the viscous texture from the ladies finger.

Once vegetables are done, add cooked dal, tamarind paste , sambhar masala, additional salt & Water if required and pressure cook sambhar for 2 whistles and leave it on low flame for five minutes