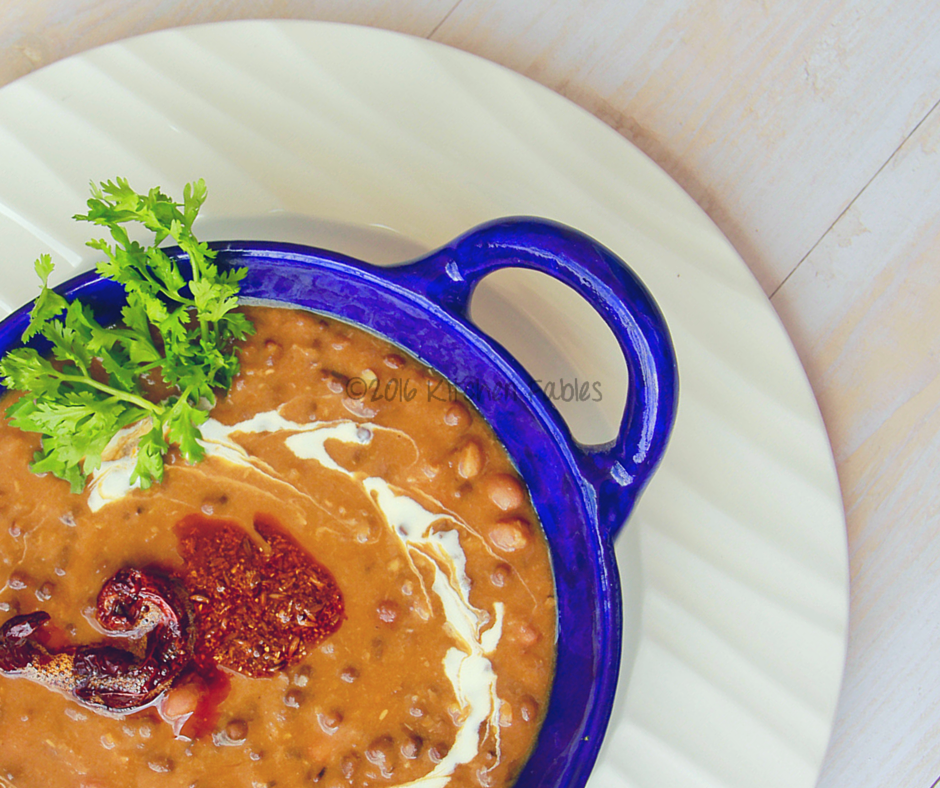 Dal Makhani also known as "Maa di Dal" is a very popular Punjabi Daal. It is Black Gram ( Urad ) cooked with Kidney beans ( Rajama) and Split Bengal Gram ( Chanaa Dal). The uniqueness of this dal lies in the fact that the more time it is cooked, tastier it is.
Urad dal is mostly associated with north indian cuisine especially punjabi cuisine, but it is also popular in south india. The difference is that in south India dhuli urad ( split skinned black gram ) is used more. Urad dal is very nutritious and is high in iron, fibre, folic acid , potassium & magnesium. Urad Dal is difficult to digest as compared to other dals and therefore, ginger , garlic is added while cooking this dal. Asafoetida added to the dal also aids in digestion.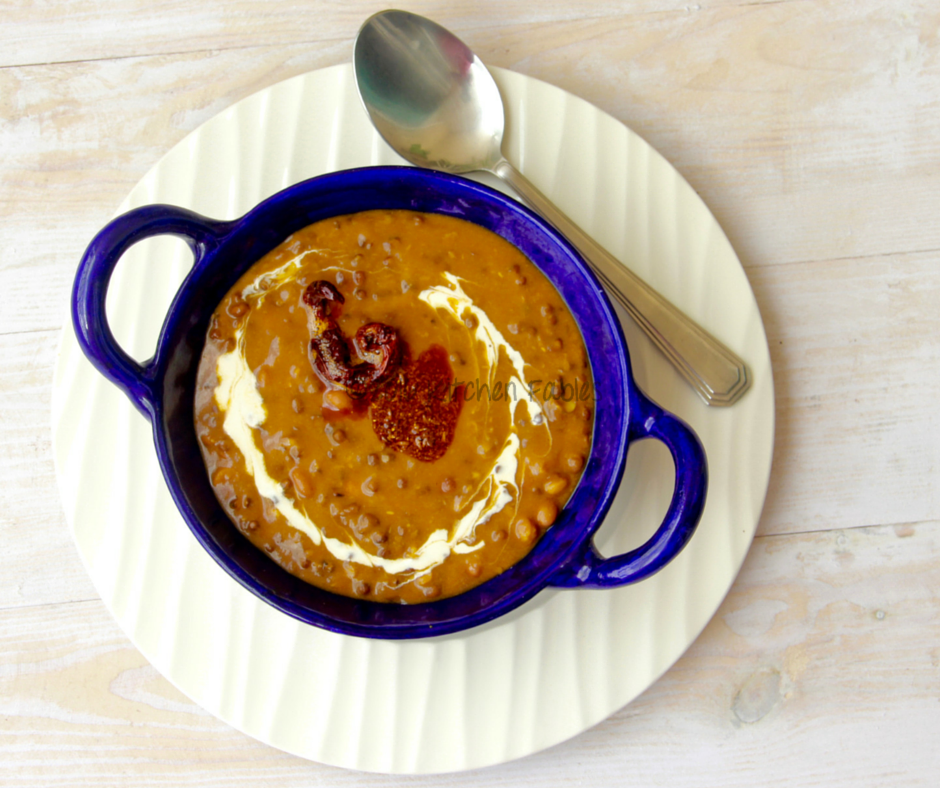 Dal Makhani is cooked on slow flame. My grandmother used to tell us that after finishing a meal they would put the dal in a pot and leave it on the clay oven , with enough wood to keep the fire on for the rest of the night. This way the dal slowly gets cooked overnight. Nowadays in the modern kitchen we do not and may be I can say we need not cook the dal overnight but yes, by keeping it in a pressure cooker, after cooking, on a slow flame gives the dal a creamy texture.
Urud dal tastes much better the next day after cooking. If I have to serve Dal Makhani for dinner I make it in the afternoon and let it rest for sometime. Dal becomes much thicker by evening, and then I add a little milk and heat it again. Dal Makhani as the name suggests, should contain a lot of butter and cream. However, nowadays with much lesser physical activity most of us are trying to reduce the butter / cream intake, therefore I add less cream and more milk.
Did you know many punjabis do not cook or eat dal makhani on Saturday, reason being it is donated on Saturday.
Wash and soak Urad Dal, Rajma and Chanaa dal for 6 hours or overnight

Before cooking, wash soaked dals again and put in a pressure cooker with 4 times the water and a little more. In my case, dals and rajma put together came to 3/4 cup so I used 4 cups water. Preferably use white rajma as it gets cooked easily and mixes easily in the gravy.

Add Turmeric powder, Salt, Ginger paste and Garlic paste. I make Ginger and garlic paster separately at home. Grind Ginger and Garlic separately with oil and keep in the fridge. Do not add any water. I make paste for the entire week over the weekend and stock.

Cook the dal in a pressure cooker, after the first whistle lower the flame and wait for 2-3 more whistles. After the 3rd whistle switch off the flame. Once the cooker has cooled down, open and check if the dal is cooked. Dal is cooked if it is soft.

Add pureed tomato to the dal and boil the dal without closing the lid. Let the dal simmer for 15 -20 minutes.

Add milk and boil dal for another 2-3 minutes. Check the consistency of dal and add more milk to adjust the consistency.

Before serving heat the dal well and add tempering.

For tempering, heat ghee and add asafoetida , then cumin seeds. when the cumin seed are golden brown add coriander powder, red chilly powder and whole red chilly

Pour the tempering on the dal , garnish with fresh coriander and cream.

Serve with Lachha Paratha, Butter Naan or Chapati.
If you like the recipe please show your support by hitting the little heart below and if you would like to get notified whenever I post something new please follow me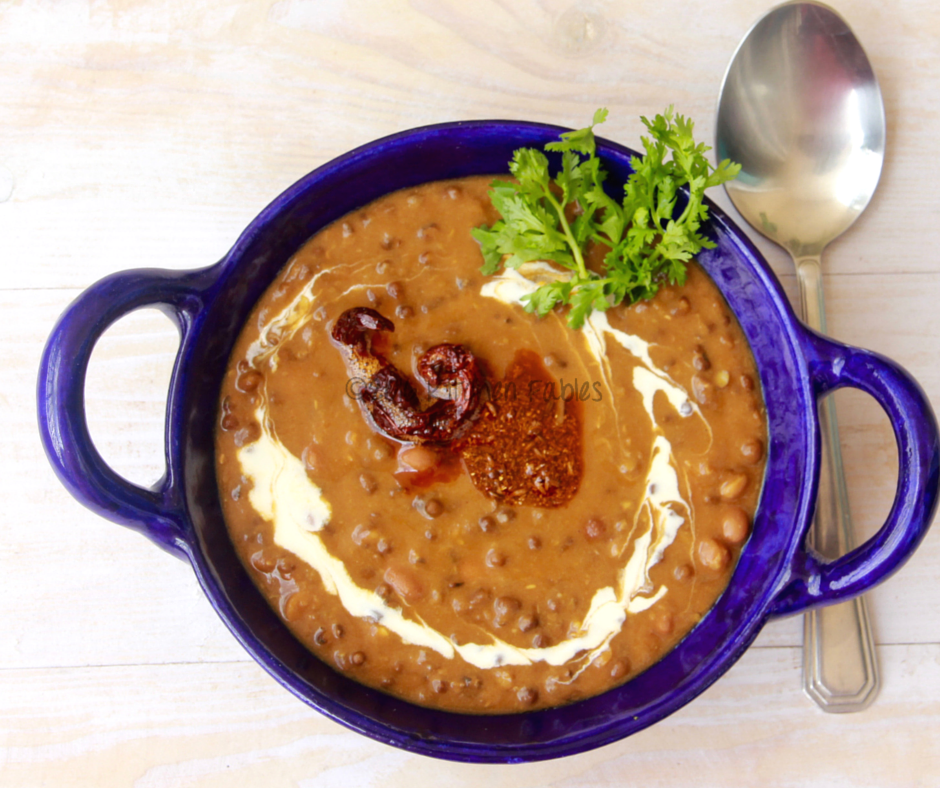 I would love to hear from you on how the recipe turned out for you, please leave a comment and rate it.